UC Celebrates Basketball's Golden Age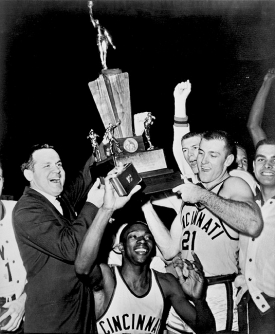 Nobody gave Cincinnati a chance — not even the radio announcer, whose doubts pelted the ears of UC players while they were getting taped up and dressed in the team hotel room prior to the game of their lives.

Going into the 1961 national title basketball game, the Ohio State Buckeyes — led by future Hall of Famers Jerry Lucas and John Havlicek — were unbeaten and the defending champs. Meanwhile UC, a group of relative no-names, was best known for having just graduated the country's most prolific player, Oscar Robertson, Bus '60.

Bob Wiesenhahn's temper still flares nearly 50 years later when he describes the moment in that Kansas City hotel room when he heard the announcer predict Ohio State would outplay UC because Havlicek was going to "eat him up."

Teammate and four-year roommate Carl Bouldin recalls the less-than-surprising reaction from Wiesenhahn, a warrior-like player who did pushups in the locker room to rev himself up for games. "The radio guy had said, 'The big matchup difference in the game would be between Wiesenhahn, UC's hatchet man, and the great Hondo, John Havlicek,'" Bouldin remembers.

"Wiesy was getting dressed at the time. He looked up, and his face got red. He said, 'I'll kill 'em.' And he did. He held Havlicek to 4 points that night. He just wouldn't let him get the ball."

Wiesenhahn finished with 17 points, while Bouldin poured in 16 of his own, to lead the Bearcats to a stunning 70-65 overtime win over the Buckeyes. It would be the first of UC's back-to-back national championships.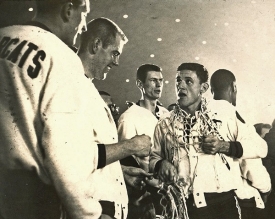 To celebrate the Bearcats' golden age in basketball, UC kicked off a two-year 50th anniversary celebration of the 1961 and 1962 national championships by inviting the heroes of both years back for a reunion luncheon in the Great Hall of Tangeman University Center in October 2010. Ten players and an assistant coach from those title teams returned with their families to relive some of the emotional moments: Carl Bouldin, Ed '61; Bob Wiesenhahn, Ed '61; Tony Yates, Ed '63; Tom Thacker, Ed '63, MA (DAAP) '73; Larry Shingleton, Bus '63, MBA '64; Dale Heidotting, DAAP '65; Fred Dierking, Ed '62; George Wilson, Ed '64; Larry Elsasser (who died in November after the reunion -- see obituary), Ed '65, MEd '73; Bill Abernethy, A&S '64, JD '67; and assistant coach Tay Baker, Ed '50, MEd '57.

Paul Hogue, Ed '62; Jim Calhoun, Ed '62; and head coach Ed Jucker, Ed '40, are deceased, and four surviving players — Ron Bonham, Ed '64; Tom Sizer, Bus '62; Ron Reis, Bus '62; and Mark Altenau, A&S '63, MD '66 — were unable to attend.

Each of the men who came spoke of the lifelong brotherhood they formed in the early '60s as they overcame long odds to become back-to-back NCAA champs. They were unselfish squads in which each player knew and accepted his role, and they were united by coach Ed Jucker, who insisted they call him "Juck."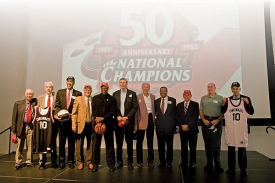 UC's first trophy season
The 1960-61 team's journey to a title is particularly impressive given it was Jucker's first year as head coach after George Smith, Ed '35, MEd '51, moved up to athletic director. Jucker's debut season started with his team losing three of its first eight games, and the program — sorely missing Oscar, the nation's best player for three straight years — was in complete transition. Early on, neither the players nor the fans bought into Jucker's new coaching philosophy when he installed a far slower, more measured offensive style than they were used to playing and seeing.

"It affected us to hear boos coming out of the stands while we were trying to run this new plan," Bouldin recalled. Fans kept taunting the coach with chants of "Let 'em run!"

Unwavered, Jucker continued to downshift the tempo from a run-and-gun UC style, once able to score 100 points a game, to a more patient, selective and defensive-minded club. It was a bold copy of Pete Newell's method at the University of California and one Jucker had seen firsthand. As George Smith's assistant coach, Jucker had watched from the bench as Cal bounced the Bearcats from the Final Four in both '59 and '60 by slowing the pace of the game.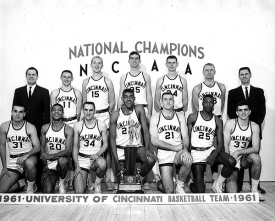 "It was quite an adjustment," recalled point guard Tony Yates. "We struggled early on with the new system. But there was a magical moment when it clicked for us after about eight games." Cincy didn't lose another game all year.

Yates, whose teammates called him "Gramps," was only a sophomore in 1961 but was still the elder statesman on the team as he had opted for the service out of high school. By the time he started at UC, he was 22 years old and married.

"I was the old man," he laughed. "I had a good understanding of what Juck wanted to achieve. As the coach on the floor, I would dribble by the bench during the game, and we would talk." If Tony saw a player loafing, he'd advise Jucker to yank him, and he usually would.

Jucker's death in 2002 at age 85 was a painful loss for his players as many of them considered Jucker an "adoptive father," even though they themselves had reached retirement age.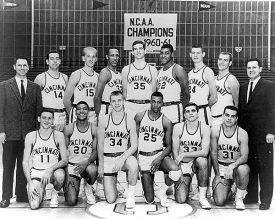 "He was a very caring person and very high spirited," Yates said. "If he thought the officials weren't doing a good job, he'd reach over the scorer's table and blow the horn to stop the game. We picked up on his desire to win."

Assistant coach Tay Baker used part of his speech during the October ceremony to also credit coach George Smith's recruiting efforts for assembling UC's title teams and pointed out that Jucker was the ideal coach for the Bearcats in the early '60s.

"It was a perfect fit," Baker said. "This team and coach Jucker — they belonged to each other."

Jucker's passion for winning — fans used to send the emotional coach seatbelts in hopes he'd fasten himself to the bench — and his affection for his players was something that lasted his entire life, said his daughter Karen Jucker-Reddig, who came from Atlanta for the 50th anniversary ceremony. She called her dad's players her "extended family."

"My dad had a deep, deep love for these players that has lasted 50 years," she said following the ceremony. "They truly were a family. I feel his presence in the room and how proud he would have been."

Jucker-Reddig smiled as she thought back to the day she rode on a fire engine during a championship parade as a toddler, but her favorite story from her pop's heyday was the one he used to tell of being arrested while trying to scout the Buckeyes prior to one of the championship games.

"He had an old wooden station wagon University of Cincinnati car," she said. "He went the wrong way on a one-way street in Columbus, and they actually hauled him to the police station and held him so he couldn't go scout the game."

Though an interesting attempt, even that measure was not quite enough to keep Jucker's club from winning back-to-back against Ohio State. According to Yates, very little could knock UC off its game plan, and they actually preferred playing on the road in hostile environments.

"We had seven or eight guys who could dunk the basketball, and you were allowed to dunk in warm-ups in those days," he said. "We'd start our lay-up line, and we'd have several dunks in a row of all kinds. We'd look down at the other end of the court, and the opposing players would be standing and looking at us instead of going through their warm-up line. I think that had an intimidating effect."

With bruising players like Wiesenhahn and Hogue (a 6-9, 235-pound center) on the inside, Bouldin shooting from long range and Yates shutting down the opposing team's top shooters, UC was indeed an intimidating presence, even if they didn't have a "superstar" player. From a pure talent standpoint, perhaps as close as they came to a natural star was wiry sophomore Tom Thacker who could shoot, pass, shot-block and defend.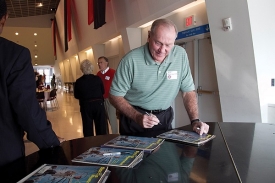 Back-to-back in '62
Starters Thacker, Yates and Hogue returned the following year to defend UC's crown. And with Bouldin and Wiesenhahn graduating, UC eventually turned to sophomores George Wilson and Ron Bonham, a pair of former high school All-Americans, to fill the void. Bonham quickly became the go-to scoring threat on the team because, as Yates put it, "he was the greatest pure shooter I've ever seen in my life."

UC returned to the championship game once again to face Ohio State, and this time UC dispatched the Buckeyes 71-59. They were led by Hogue, who scored 22 points and pulled down 19 rebounds. To win a second championship was an incredible feeling.

"That's an experience you really have to be there to believe," Thacker said. "It is a feeling you only get when you achieve something great."

In 1963, in UC's then-record fifth-consecutive Final Four appearance, the Bearcats — led by Bonham, Thacker, Yates, Wilson and Larry Shingleton — made their third-straight showing in the title game but fell to Loyola in a 2-point loss after leading by 15.

Big George Wilson pointed to UC's unselfish play as the key to the Bearcats' success in those years. Wilson had spent his basketball career dominating teams offensively, but adopted a less-flashy role at UC when Jucker asked him to become a leading rebounder and defender, parts of the game that do not typically make the morning papers.

"The main thing was we were a team first," Wilson said. "Jucker told you exactly what you had to do, and that's what you did. And he would let you know when you did your job. These days, when I go around and talk to kids in schools, I tell them a team effort will win all the time."

More than anything, Wilson said the players savor the relationships they built through those teams. He remembered rooming with Hogue, who became a lifelong friend. To this day, Wilson and a group of his card-playing friends set an empty chair at the poker table for Hogue, who died in 2009.

"I was an only child, so Paul was like my big brother," Wilson said. "He told me what to do and what not to do. He looked after me. Back in our day, it was an exception to the rule for a guy not to graduate. So Paul made sure I got to class, and I made sure he got to class."

After a half-century, UC's championship teammates still gather at least twice a year, usually at the Montgomery Inn Boathouse downtown, to eat, tease one another and share stories. All of them agree that the championships mean more to them with each passing year.

"It is just a neat bunch of guys," said Wiesenhahn. "Everybody still speaks well of each other, and everybody seems to get along. It was a close group back then, and we are still close to this day."

For fans, the next two years celebrating UC's championship seasons will allow many to relive, or perhaps discover for the first time, the greatest moments in UC athletics history.

"It amazes me that people still come up to us and talk about those games," said Yates. "That was a special time in the city and the region. Parents have passed the stories onto children and grandchildren.

"Those special moments still hang on."
Check out this rare footage of the University of Cincinnati's celebration of the 1960-61 National Basketball Championship inside the Armory Fieldhouse on campus. Special thanks to Mike Simpson, Bus '63, who shot this in 8MM and sent it along for UC Magazine to share. Every player on the team appears in the video with the exception of starter Bob Wiesenhahn, who led the Bearcats in scoring to defeat Ohio State, 70-65. Also missing is assistant coach Tay Baker. Editing/John Bach

Readers Respond
Many of you have written to tell us how much you enjoyed catching up with UC's basketball heroes. Here are some of those responses, borrowed from our Letters page.

Bursting Buckeye bubbles
With reference to your article on the 1961 and '62 golden age of basketball, I had an experience worth telling.
While attending a University of Wisconsin basketball game against Ohio State in Madison a few years ago, I was seated beside three obvious Ohio State guys with a few pre-game beers in their bellies. To be sociable, I commented that Ohio State had several highly talented freshmen. One guy replied, "Yeah, but you should have seen our team when we were in school with Jerry Lucas and John Havlicek."
I looked him in the eye and said, "But wasn't that the time when the University of Cincinnati beat you twice in a row for the NCAA championship?" His face dropped a foot, and he said, "How did you know that?"
Darrel Cornelius, MS (Eng) '61, MBA '69
Madison, Wisc.
Dorming with the team
I really enjoyed the article in "UC Magazine" about the 50th reunion of the 1961 and '62 basketball teams. These happened in my first two years at UC.
In those days, all a student had to do to attend the game was show your student ID, and you were admitted. The games were played in the Armory Fieldhouse, and since I was staying in the French Hall dorm, it was a quick walk to the games.
When I was a sophomore, my room was across the hall and down a door or so from where Paul Hogue [Ed '62] and Tom Thacker [Ed '63] roomed. They had special beds; a 6-foot, 9-inch guy wouldn't have fit into the normal dorm bunk beds.
Great memories from those years. Your article captured the great teamwork of those years. Very good players, but no superstars.

Jim Luginbuhl, Eng '65, MS (Eng) '69
Amelia, Ohio

Championship video wanted
I enjoyed your well-written story on the Bearcats of a half-century ago. I was 12 when they beat Ohio State the first time, and that remains the favorite game in my life as a fan in any sport.
In 1989, the night before the Final Four in Kansas City's Kemper Arena, the NCAA threw a party in the old Municipal Auditorium for all former champion teams. Across the way, I saw a big man in a three-piece suit just looking around. I made my way over and said, "Excuse me, Mr. Hogue?"
Paul Hogue [Ed '62] and I talked about the game, which had been played in that arena and which I remembered in almost as great detail as he did. It was a thrill for me, and he seemed to enjoy the chat. I was saddened to read of his death.
When I was in college, I worked summers at the Latonia Racetrack, now called Turfway. Bob Wiesenhahn [Ed '61] sold betting tickets. A regular customer used to walk by and say, "There's Wiesey; he beat the Bucks!"
Assistant coach Tay Baker [Ed '50, MEd '57] would never remember me, but I covered a 1967 basketball road trip for the News Record when I was a freshman at UC. Egged on by some players after practice in Tulsa, I got into a free-throw shooting contest with the coach, who was still a better pure shooter than his players.
Tay made 13 in a row. I then made eight in a row, but the players were laughing so hard that I was laughing, too, and missed the ninth one. Fun.

Does a video copy exist of that 1961 game? If so, I'd pay good money for it.

Michael Kelly, A&S '70
Columnist, Omaha World-Herald
Need to relive those games
I read with great interest and renewed memories of those great championships in a great article written by John Bach. I was a cheerleader my junior and senior years of the 1960-61 and 1961-62 seasons.
While I was in graduate school at Indiana U during the 1962-63 season, I traveled to UC for the NCAA Basketball Championship series and joined several Sig Eps to drive to Kentucky for the championship game against Loyola of Chicago. We had a long sad ride back to Bloomington, Ind., after our overtime loss.
I must admit that some of my greatest joys were following UC basketball, and being on the floor for the NCAA games. I grew up in South Charleston, W. Va., with Jerry West in my high school conference, then watched an amazing Big O [Oscar Robertson, Bus '60] for my first two years at Cincinnati.
How many arguments do you suppose I was involved in regarding West vs. Robertson when I went home for holidays? (Of course, I always felt I won with the Big O.) I remember a chartered train ride with 1,000+ UC students to Evansville, Ind., for a playoff game with Bradley for the Conference championship, which we won.
I had tried several years ago to track down video highlights or the entire televised productions of our two winning championship games. I went through our athletics department and television networks, "Googled" several possible sources and ran into dead ends at each turn.
I know these games were played prior to video production technology, but I have to believe there exists some historical footage of those two games against Ohio State captured on the television technology of the '60s. Who better than your staff to locate such reproductions?
I believe many UC grads would pay dearly to have such memories come to life. Good luck.
Hal McGlathery, Bus '62
Spokane, Wash.
Editor's reply to both letters: The only way to get video from those games is a custom order directly through the NCAA website, which is quite pricey ($150 per game). It appears that the 1962 championship game is unavailable, but you can obtain the 1961 championship game, as well as regional and Final Four games from both seasons.

B-ball in the '40s
I really enjoyed the basketball story as I saw all three games in Louisville. I played on the frosh team in the fall of '47 in the gym at the end of the football field [Schmidlapp Gymnasium].
What a change. I was 17, and the varsity were mostly GIs from WWII and much older. We received nothing for playing against the varsity every day — not even a meal.
For away games, we had to find a ride with someone with a car as none of us had one. Coach [John "Socko"] Wiethe had no assistant or frosh coach.
The highlight for me was playing the prelim game at Music Hall before the Kentucky Wildcats with their great team and Adolph Rupp. We got to sit up close.
Congratulations to that great team in the early '60s.
Doug Sellers, Bus '51
Sun City Center, Fla.