UC alumni who fought for civil rights
In honor of Juneteenth, UC highlights alumni who have spent their lives overcoming and combatting racial inequalities.
June 19, 1865, commemorates the end of slavery in the United States. Although President Abraham Lincoln issued the Emancipation Proclamation on Sept. 22, 1862, with an effective date of Jan. 1, 1863, Confederate states tried to ignore it. The last holdout was Texas. On June 18-19, 1865, 2,000 federal troops took possession of the state and enforced the emancipation of its slaves.

In 2012, Juneteenth (aka Freedom Day or Emancipation Day) became recognized as a state holiday or state observance to be celebrated on June 19 in 42 states and the District of Columbia. (States listed below.)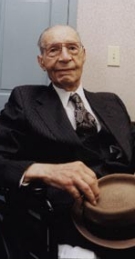 National civil rights leader, Cincy's first black mayor
Theodore "Ted" Berry (1905-2000), A&S '28, Law '31, was a national civil rights leader who became Cincinnati's first black mayor in 1972. Born in rural Kentucky, Berry graduated from Woodward High School as Cincinnati's first black valedictorian, then earned UC degrees while working at a steel mill. After graduation, he was hired as Hamilton County's first black assistant prosecuting attorney, then went on to become a civil-rights attorney for the National Association for the Advancement of Colored People. Later President Franklin D. Roosevelt named him morale officer for the Office of War Information, and President Lyndon Johnson appointed him head of Community Action Programs. Back in Cincinnati, he served on the Ohio Committee for Civil Rights Legislation and created Cincinnati's first Community Action Commission. After his death, Cincinnati City Council named three projects in his honor: Theodore Berry Head Start Children and Family Learning Center, the Theodore Berry International Park on Eastern Avenue and Theodore Berry Way, a street near the riverfront.
Link: Read his story in UC Magazine.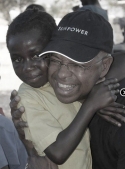 Trying to end child slavery in Haiti
Jean Robert-Cadet, M (A&S) '94, spent the first 15 years of his life as unpaid domestic worker in Haiti, which means he was often abused and treated as a slave, known as a restavek. In 1969, he managed to find his way to the U.S. and escaped the system. In 1998, he published his first book, "Restavec: From Haitian Slave Child to Middle-Class American," which gained international attention. To make the plight of Haiti's children known worldwide, he has spoken before the United Nations, the International Labor Organization and the U.S. Congress, as well as appeared on "The Oprah Winfrey Show," CNN and "60 Minutes." In 2010, he founded the Jean R. Cadet Restavek Organization, which leads him to travels to Haiti every six weeks to continue work.
Link: Read his story and view an extensive photo gallery in UC Magazine.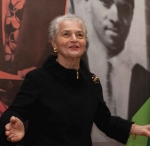 Marian Spencer, A&S '42, HonDoc '06, is as well know a civil-rights activist in Cincinnati as was her husband of 67 years, Donald. Her civil rights activities began early — joining the NCAAP at age 13 and campaigning for an open college prom when she was a UC student. Her renown came in desegregating Coney Island after she and her family were turned away on July 4, 1952, by a front-gate guard brandishing a gun. She and others later faced the legal consequences of trying to gain entrance to the park daily, and she chaired the NAACP Legal Action committee in filing a suit against the park, which they won. She was instrumental in integrating the Cincinnati YWCA in the 1950s and halting discrimination against local black voters in 2004. She became the first African-American woman elected to Cincinnati City Council ('83), first and only woman president of the Cincinnati NAACP chapter ('80) and the first African-American elected president of the local Woman's City Club ('72).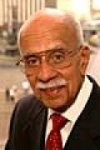 Breaking down local racial barriers for 70 years
Donald Spencer (1915-2010), A&S '36, Ed '37, MEd '40, HonDoc '06 — along with his wife, Marian, A&S '42, HonDoc '06 — helped break down racial barriers in Cincinnati for nearly 70 years. Donald was the first African-American broker to join the Cincinnati Association of Real Estate Brokers in 1986 and was later elected president of the organization. He founded his real estate firm, Donald Spencer and Associates, while a teacher for Cincinnati Public Schools. He was a lifetime member of the NAACP and the first African American to chair Ohio University's Board of Trustees. He also was active in the Cincinnati USA Regional Chamber and was named a "Great Living Cincinnatian" in 2005. His wife Marian had her own long civil rights career, including being the first African American elected to Cincinnati City Council.


Worked closely with Nelson Mandela
Pamela Bridgewater, M (A&S) '70, HonDoc '06, is a U.S. career diplomat, most recently posted as the U.S. Ambassador to Ghana, from 2005-08, and the longest-serving U.S. diplomat in South Africa, who worked closely with Nelson Mandela as apartheid came to an end.
Link: Read more.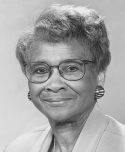 Advances in sickle-cell-disease treatment
Clarice Reid, MD '59, is a woman who beat all odds to become Cincinnati's only African-American pediatrician (male or female) in private practice from 1962-68. She then spent more than 20 years as coordinator of the National Sickle Cell Disease Program at the National Institutes of Health. Under her leadership, important advances in sickle-cell-disease research and hematology were made, transforming the management and care of patients and directly impacting the quality of their lives. It was a long climb from being raised in Birmingham, Ala., where she attended a three-room elementary school and the city's only high school for black students. She went on to become only the third African-American to graduate from the University of Cincinnati's College of Medicine.
LINK: Read her story in UC Magazine.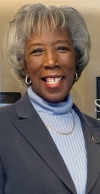 Whole life dedicated to social justice
Jeannette Taylor, PhD (A&S) '79, has been a crusader for social justice and a mentor to countless minorities and women for more than 50 years. In 1960, she was an African-American Delaware State University undergraduate who had joined demonstrators across the country by sitting at a local drugstore counter where blacks were not welcome. While a graduate student at Atlanta University's School of Social Work, she and her peers worked to integrate the staff at area social-service agencies. As a result, she and a classmate became the first African-American students placed as interns at Georgia's Milledgeville State Hospital. She also marched with Martin Luther King Jr. from Selma to Montgomery, despite threats from her dean that she wouldn't graduate. Her involvement, however, did lead to her being thrown in jail — with men, not women, because she wanted to "act like a man," she was told.

After earning her UC PhD, she became UC's director of continuing education, then UC's first female African-American dean in 1989 when she led the former College of Evening and Continuing Education. Being a UC professor of social work now brings her UC service to years in 2012. A conference room in UC's French Hall West was named in her honor. "I've spent my whole life working toward social-justice issues," she says. "It has become a part of me. It is just what I'm supposed to do when things are not right."
Link: Read her story in UC Magazine.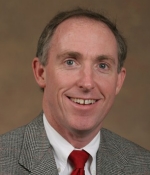 Leading scholar in human-trafficking law
Terry Coonan, JD '95, has been the executive director of the Center for the Advancement of Human Rights at Florida State University since its founding in 2000 and is a leading scholar in the field of human-trafficking law in the U.S. After working in Chile and Central America with torture victims and the families of the disappeared, he served for several years advising U.S. judges on immigration and refugee law. He went on to litigate asylum and torture victim protection cases throughout the country. He has also worked with the UN SubCommission for Human Rights in Geneva and the UN High Commission for Refugees in Washington, D.C. (updated 5-13)
---
States commemorating Juneteenth: The 42 states are: Alabama, Alaska, Arkansas, California, Colorado, Connecticut, Delaware, Florida, Georgia, Idaho, Illinois, Indiana, Iowa, Kansas, Kentucky, Louisiana, Maine, Massachusetts, Michigan, Minnesota, Mississippi, Missouri, Nebraska, Nevada, New Jersey, New Mexico, New York, North Carolina, Ohio, Oklahoma, Oregon, Pennsylvania, Rhode Island, South Carolina, Tennessee, Texas, Vermont, Virginia, Washington, West Virginia, Wisconsin and Wyoming, plus the District of Columbia.

---
LINK: See Famous Alumni page listing a variety of human-rights champions.
created 6-13 by Deborah Rieselman