Famous UC alumni names worth dropping
Subcategories in Names Worth Dropping ...
Adventurers

First Americans to reach Mt. Everest summit
Barry Bishop (1932–94), A&S '54, was a member of the first American team to reach the summit of Mt. Everest and the official glaciologist and climatologist on Sir Edmund Hillary's 1960-61 Himalayan exploration. He also served as vice president of the National Geographic Society and chairman of research. Through the years, he had participated in research expeditions around the world with prominent scientists such as Jane Goodall and Mary Leakey. In 1994, he died in an auto accident at age 62.
LINK: See the UC Magazine story commemorating the historic climb's 50th anniversary.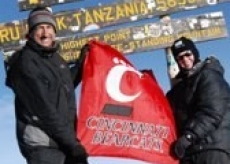 Marc Scheineson summits Mount Kilimanjaro
Marc Scheineson, A&S '77, JD '80, made it to Mount Kilimanjaro's highest peak, which is also the higest mountain in the entire Afircan contentent, during Octobger 2010. The Washington, D.C., lawyer was dealing with a midlife crisis when he relized his answer involved a trip to Tanzania to raise money for Norwood/Hope Center, a school for autistic and learning-disabled children in England.

LINK: Read the UC Magazine story about his climb.


---
Athletic connections
Atlantic Coast Conference president
Clyde McCoy, A&S '65, M (A&S) '67, D (A&S) '70, was president for 17 years of the Atlantic Coast Conference, a collegiate athletic league for Boston College, Clemson, Duke, Florida State, Georgia Tech, Maryland, Miami, North Carolina, NC State, Virginia, Virginia Tech and Wake Forest. He is also a professor of epidemiology and public health at the University of Miami. He served in that capacity from 1995-2012.
LINKS

---

Comedians
Favorite game-show panelist
Julius "Nipsey" Russell (1918-2005), att. '36, best known as a guest panelist on game shows from the 1960s through the '90s, especially "Match Game," "Password," "Hollywood Squares," "To Tell the Truth" and "Hollywood Squares." Because he often made up poems on the shows, he developed the reputation as the "the poet laureate of television." He also had a leading role in the film version of "The Wiz."

Internationally known "Funny Indian"
Rajiv Satyal, Eng. '00, is known as the "Funny Indian." After giving up a successful career as a Procter & Gamble marketing manager, he has performed his standup comedy act on three continents and opened for such famous comedians as Tim Allen and Dave Chappelle. In January 2012, the U.S. State Department sent Satyal, who is a Hindu, and a Muslim comedian on a seven-city goodwill tour of India to help bring people of different religious and cultural backgrounds together. Called "Make Chai Not War," the tour received international media attention, including coverage by the Wall Street Journal, the Washington Times, the Times of India and National Public Radio.
---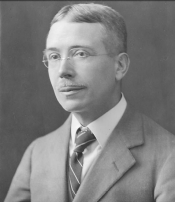 Editors

Author of "The Elements of Style"
William Strunk Jr. (1869-1946), A&S 1890, was author of "The Elements of Style," a revered book found on the desk of most writers and editors. In 1918, he originally self-published the book to aid his students at Cornell University where he had earned his PhD and ended up teaching for 46 years. He also hoped the book would "speed up his grading by allowing him to mark the number of the rule that had been violated on a student's essay rather than writing out an explanation," says his great-niece Susan Beach. His most famous student was E.B. White, who updated the book after his professor's death in 1959 and published it under both of their names. After more than 50 years in print, the updated version has sold more than 10 million copies. Strunk also worked in Hollywood as an adviser on the MGM production of "Romeo and Juliet" in 1935.

Cincinnati's WPA Guide editor
Harry Graff, A&S '33, M (A&S) '34, was the editor of the local WPA Guide, titled "Cincinnati: A Guide to the Queen City and Its Neighbors." The 1943 book was the final volume in the prestigious American Guide Series. Graff, who was the regional supervisor for the WPA Federal Writers' Project, then state director, edited selections for the book, wrote some of the content and selected photos. Later, he opened the PR/advertising firm Harry W. Graff Inc. in New York, helped several international airlines develop U.S. routes and wrote several books on travel management. A high school valedictorian, he enrolled at UC at age 16.

---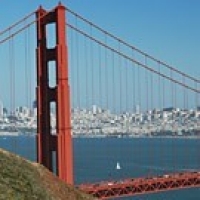 Engineers

Golden Gate Bridge builder

Joseph Strauss (1870–1938), Eng 1892, HonDoc '30, engineered and built the Golden Gate Bridge in San Francisco. As the chief engineer, Strauss hired the staff and championed for funding to get the bridge built.

Of U.S. Naval Observatory fame

P. Ken Seidelmann, Eng '60, M (A&S) '62, D (A&S) '68, is director of astrometry at the U.S. Naval Observatory; co-discoverer of Calypso, the 25th satellite of Saturn; a former member of the Wide Field/Planetary Camera Team of the Hubble Space Telescope; a research professor at the University of Virginia. Author of more than 100 scientific papers and editor of "Explanatory Supplement to the Astronomical Almanac," Seidelmann modernized almanacs in his field and introduced electronic almanacs. The minor planet 3217 (a main-belt asteroid discovered in 1980) is named after him. (See his website.)

Inspiration for "Saving Private Ryan"

Arnold Spielberg, Eng '49, a computer-engineering pioneer, holds 12 patents and is an amateur filmmaker who bankrolled the first feature film production of his son, Steven. (He was also a World War II vet who inspired his son's movie "Saving Private Ryan.") Spielberg designed the first computerized point-of-sale system in the world for RCA in 1953. Later he fathered GE's series 200 computers.

Led Chinese astronautical industry

Liang Sili, PhD (Eng) '49, a specialist in missile-control systems, led efforts to establish the Chinese astronautical industry.
---

Radio hosts
"Married with Microphones"
Janeen Coyle, CCM '81, has been co-hosting Cincinnati's WGRR (103.5) morning show, "Chris and Janeen: Married with Microphones," with her husband, Chris O'Brien, since 1995. The couple met in 1979 at Cincinnati's WKRQ, where Janeen was working while attending UC. Their son, Dylan, is a graduate of UC's College-Conservatory of Music. Janeen also worked at WLW and WKRC. (10-2012)

---
Religious leaders
America's first female rabbi, world's second

Sally Priesand, A&S '68, became America's first female rabbi in 1972 and only the second in the world when Hebrew Union College-Jewish Institute of Religion in Cincinnati ordained her. (A rabbi in Germany had privately ordained another woman in the 1940s, but she died in a concentration camp after serving in an old age home.) Priesand ended her career by serving 25 years as senior rabbi at Monmouth Reform Temple in New Jersey, becoming rabbi emerita in '06. During her rabbinate, congregational membership more than doubled and members became involved in a wide range of religious and social-action causes, including a nationally recognized gun-safety campaign, a local job bank, a public lending library and an annual "Mitzvah Day" of charitable volunteerism. In 2010, in honor of its 125th anniversary, Good Housekeeping magazinmagazine named her one of 125 women who changed our lives and the world.


Famous chaplain went down with ship
Alexander Goode, A&S '34, was one of four Army chaplains of different faiths who went down with the Army transport ship Dorchester in 1943. The rabbi stood on deck with a Roman Catholic priest, a Methodist miniter and a Dutch Reformed pastor to distribute lifejackets, help terrified soldiers into lifeboats and offer prayers to calm their fears. They never attempted to leave the ship. They were posthumously awarded the Purple Heart and the Distinguished Service Cross in 1944 and a special Congressional Medal for Heroism in 1960. (Read his full UC Magazine story.)

Leading rabbi of Reform Judaism
Balfour Brickner (1926-2005), A&S '48, was a leading rabbi in the Reform Judaism movement. The rabbi emeritus of the Stephen Wise Free Synagogue in Manhattan had been a longtime civil-rights activist. He had been arrested in 1964 in St. Augustine, Fla., as part of the largest mass arrest of rabbis in U.S. — urged by Martin Luther King. As part of the Vietnam antiwar movement, he had met with Viet Cong leaders in Paris with an interfaith peace group. He also supported women's rights to choose abortion. A year after he was ordained in '52, he moved to Washington, D.C., where he founded Temple Sinai. In 1961, he moved to New York City for a position in the national headquarters of the Union of American Hebrew Congregations. Eugene Fisher, associate director of the U.S. Bishops' Committee for Ecumenical and Interreligious Affairs, called "one of the great leaders of Reform Judaism and one of the greatest American religious leaders of the second half of the 20th century."
American bishop of United Methodist Church
Emerson Stephen Colaw, Ed '44, is a retired American bishop of the United Methodist Church, elected in 1980. He served as acting president of United Theological Seminary, Dayton, Ohio, from 1995-96.
---
All Famous Alumni categories …