UC alumna Erin Wagner serves in Dominican Republic
Letter written to friends on Sept. 30, 2009

Hello friends and family,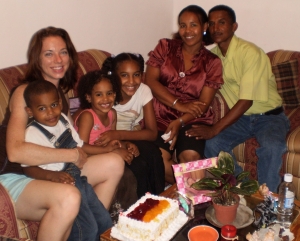 I am sending an overdue update and belated thank you from the Dominican Republic. I am still here (still!), but now living in the capital city of Santo Domingo. I extended for a third year, helping the Peace Corps to improve the nutrition portion of the health program here in the country and also to prioritize food security.

It means a fair amount of traveling within the country but also that I have electricity, internet (in my apartment!), and access to well-stocked grocery stores on a regular basis. I believe I will be entering the depressed economy and dismal job market in the U.S. in January or so. Wish me luck.

Thanks to financial help from many of you (thank you, thank you, thank you), we built 12 improved stoves in the village. I use the term "we" loosely. As was promised to me, the community association with whom I solicited the pilot project did almost all the work, both logistical and manual labor. I helped with the organization, but it was mainly their project. The town seemed taken with the design, and my project partner in the community, in conjunction with another NGO he is involved with, found funding for 200 stoves, which covers almost all the families in the village. My neighbor who is asthmatic and currently finishing treatment for TB no longer has to breathe in so much smoke as she cooks. We are both very pleased.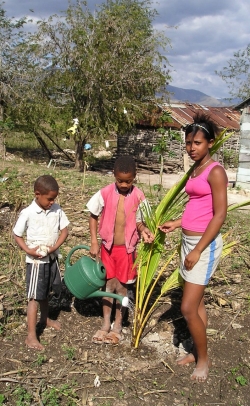 Remaining in the country means that I have the opportunity to confront the sustainability (or lack thereof) of my work in the village and determine if it even reaches short-term. Many of the gardens are no longer in production, lots of the chickens have died, a couple of the community health workers have skipped town, and the fruit trees have many years to grow until they might possibly produce.

However, the last time I visited the village I dropped in on the youth group meeting. Two teenage boys were leading an informational session/group discussion on abortion (illegal, taboo, and far too common here), which ultimately led to one of the girls in the group bringing up the age-old double standard question of why it is that a girl is considered undesirable if she is not "pure" but that it is encouraged that an adolescent boy be sexually active. It was rewarding to see them developing these themes and asking these questions on their own, without the guidance of an adult or a prodding American.

Before coming here I was nervous about the prospect of being a sex educator in a foreign culture, but it has been a truly illuminating challenge. It has also been immensely rewarding to watch several embarrassed, reticent adolescents grapple with what they want for their futures and meanwhile turn into self-confident peer educators. I was going through and organizing some of my papers before I left the village. I found the sexual health surveys i administered in the high school at the beginning of my service. A few of the youth group members and I read through them. They were appalled that all but one of the students had responded that a hypothetical fellow student with HIV should not be allowed to continue in the school for fear of infecting the others. They were impressed with how much they had learned.

I want to thank you for your support and interest over the past few years. The poverty, ignorance and violence have been difficult. But, what I have learned about generosity, community, and an overall joy in living has been well-worth the hard parts.

Love, Erin
(Master's degree in Nutritional Sciences, UC College of Allied Heath Sciences)