Matt Berninger and Scott Devendorf of alt-rock band The National reflect on their formative years at UC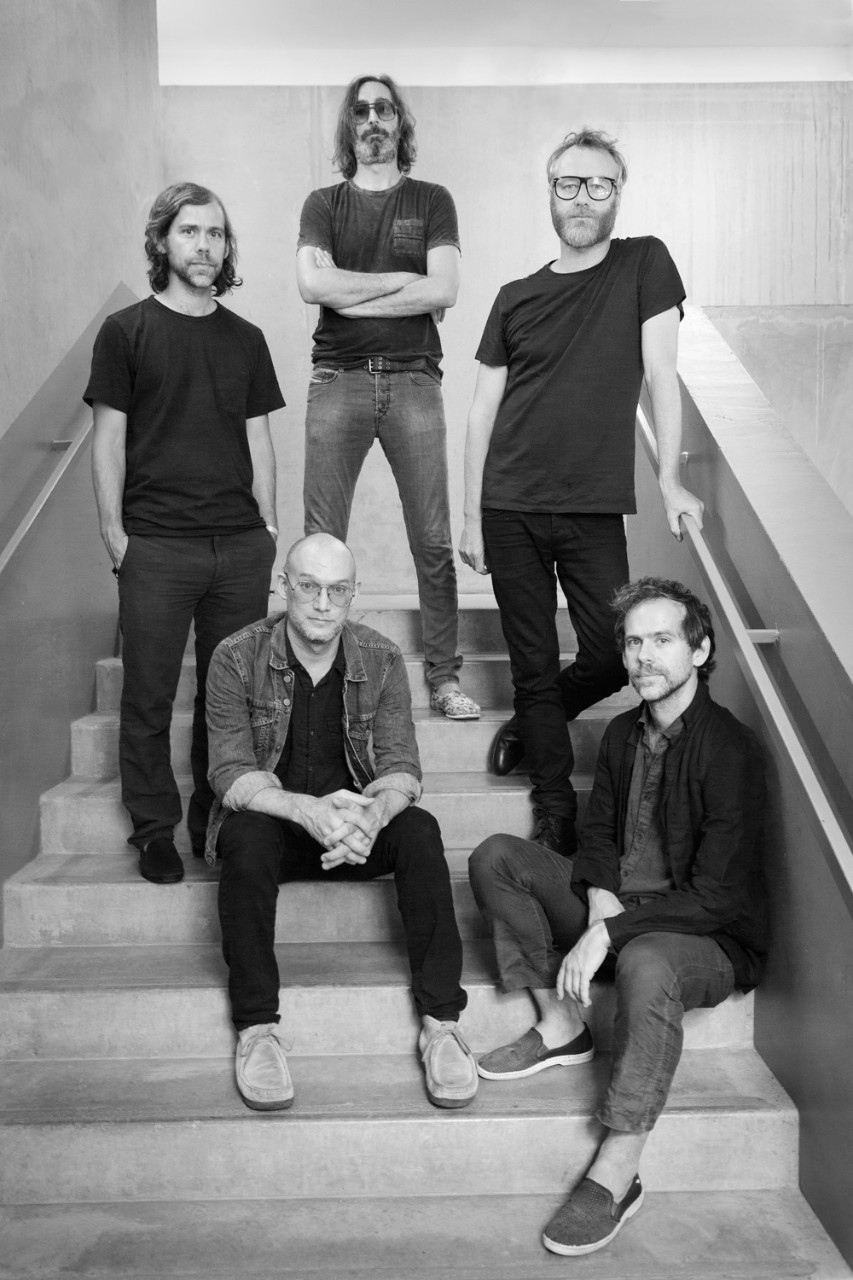 L
ong before the Grammy nominations, the world tours and the hit albums, members of indie rock band The National developed a background in design at the University of Cincinnati that still influences their art today.
"We even talk in terms of colors when we're working on songs," says Matt Berninger, band frontman and a 1996 graphic design graduate of UC's College of Design, Architecture, Art, and Planning. "When a song's too blue, it needs a little yellow."
He describes how the band weds the visual arts to music in their creative process. "I'm the lyricist and singer, and that part is like the typography inside our work," Berninger says. "The drums are the grid."
Composed of five Cincinnati natives, The National formed in Brooklyn, New York, in 1999. They've since toured around the world, releasing seven albums. Their most recent, 2017's "Sleep Well Beast," won a Grammy Award for Best Alternative Music Album and was named one of the best albums of the year by Rolling Stone magazine, placing the band in the company of Kendrick Lamar, Taylor Swift, U2, Kesha, Lorde and Jay Z.
But before they found fame in music, Berninger and The National bassist Scott Devendorf studied at DAAP, then put their degrees to work as successful designers.
Before there was
The National
When asked if their design backgrounds ever come into play as musical artists, Berninger and Devendorf have the same response: "All the time."
Berninger explains that making music is similar to creating visual art or graphic design or any type of composition because it all comes down to communicating some message.
"The more you work on something and hone in on it, you go back and tear it apart and put it back together," says Berninger. "It's the process of refinement. I know that UC and that design program definitely instilled that in me."
Devendorf first set foot on campus as a kid in the '80s, taking lessons in violin (along with brother Bryan, who plays drums for The National) and later guitar at UC's College-Conservatory of Music. A few years later he'd return to the university, this time with an interest in the visual arts.
"I was into the graphic arts part of high school — photography and trying to make our own band T-shirts and fun stuff like that," Devendorf says. "UC had such a good program. Mainly what attracted me to it was the co-op aspect."
Berninger was a transfer student who had begun studying pre-med at another college, then switched to sculpture. In trying to find a middle ground between the two majors, he settled upon the emerging field of graphic design, and his mother suggested he transfer to the program at DAAP.
"That was right before graphic design was sort of a household term," Berninger says. "It was before Photoshop and Illustrator. I remember when I heard the term graphic designer back in '91, I didn't know what that was. It sounded cool. I thought it would be mostly posters and record covers."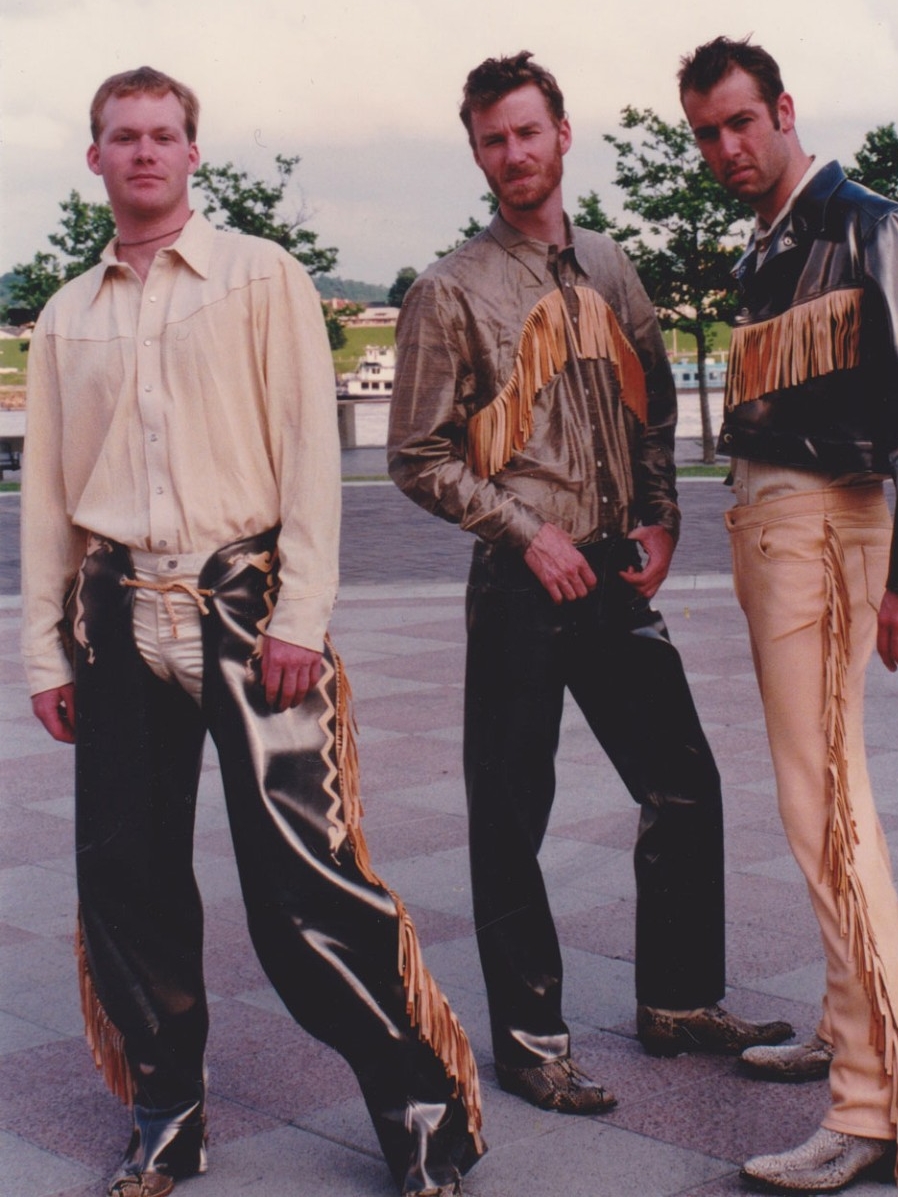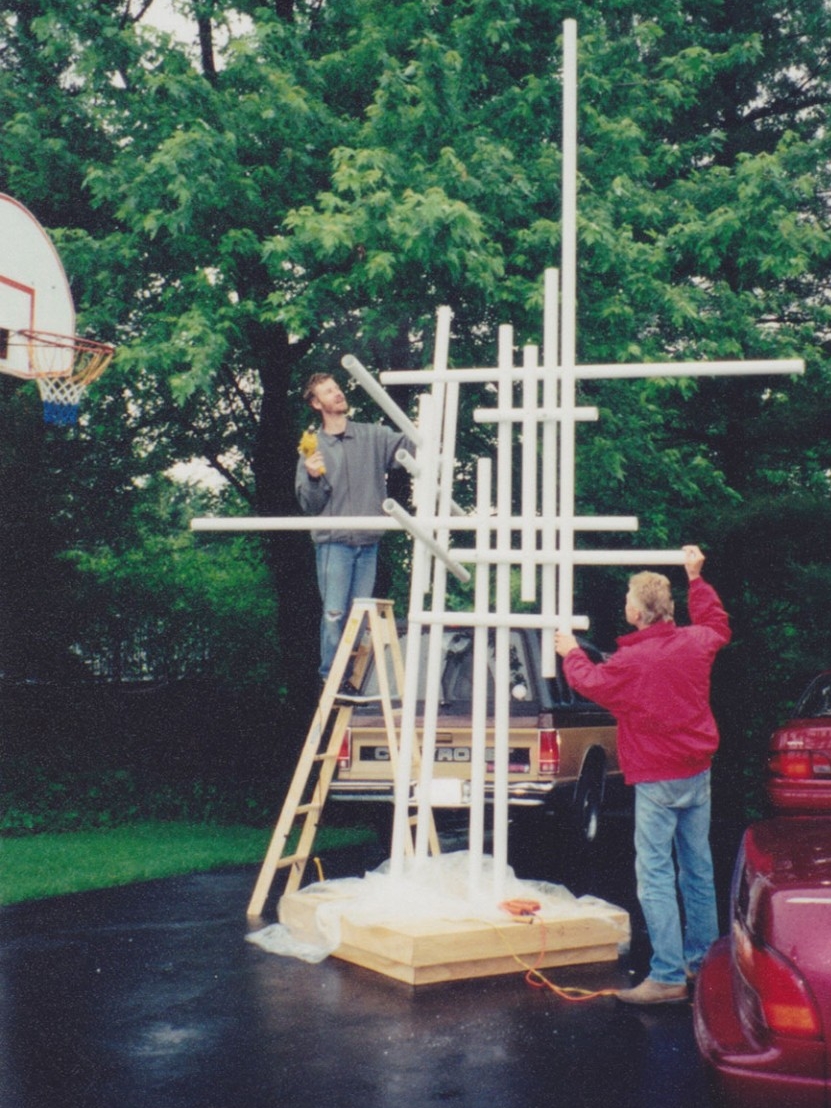 Berninger and Devendorf met their first year and ended up traveling and living together on co-ops at graphic design firms in New York City and San Francisco.
If the two went into graphic design to design band T-shirts, posters and record covers, they've certainly met that humble goal — only now it's for their own band. But before The National, there was Nancy.
Between checking out indie rock shows in other cities while on co-op and the long, music-fueled nights in design studios, Devendorf and Berninger set out to start a band with UC classmates Casey Reas, Jeff Salem and Mike Brewer. Ironically, The National frontman Berninger had never played music up to that point.
"Matt had never been in a band before and didn't play an instrument, but he has his own extraordinary skills and aptitudes, so he became a singer," explains Reas, now a media artist and professor of design media arts at UCLA. Berninger's distinct baritone voice is now a signature element of The National's style.
They called themselves Nancy (named after Berninger's mom) and played mostly for fun, practicing after classes and performing at a few parties. Nancy recorded one full-length album, "Ruther 3429," a nod to the address where Berninger and Brewer once lived as UC students.
"We had four or five people in a two-bedroom apartment when we were in school," Berninger recalls. "That was fun. We played once up there, but then the balcony almost broke because there were so many people."
When the guys graduated in 1996, they rented the nearby stalwart Greek restaurant and pizza joint Corinthian to play one last show before moving away to pursue their careers. The setting was a bit unconventional, to say the least.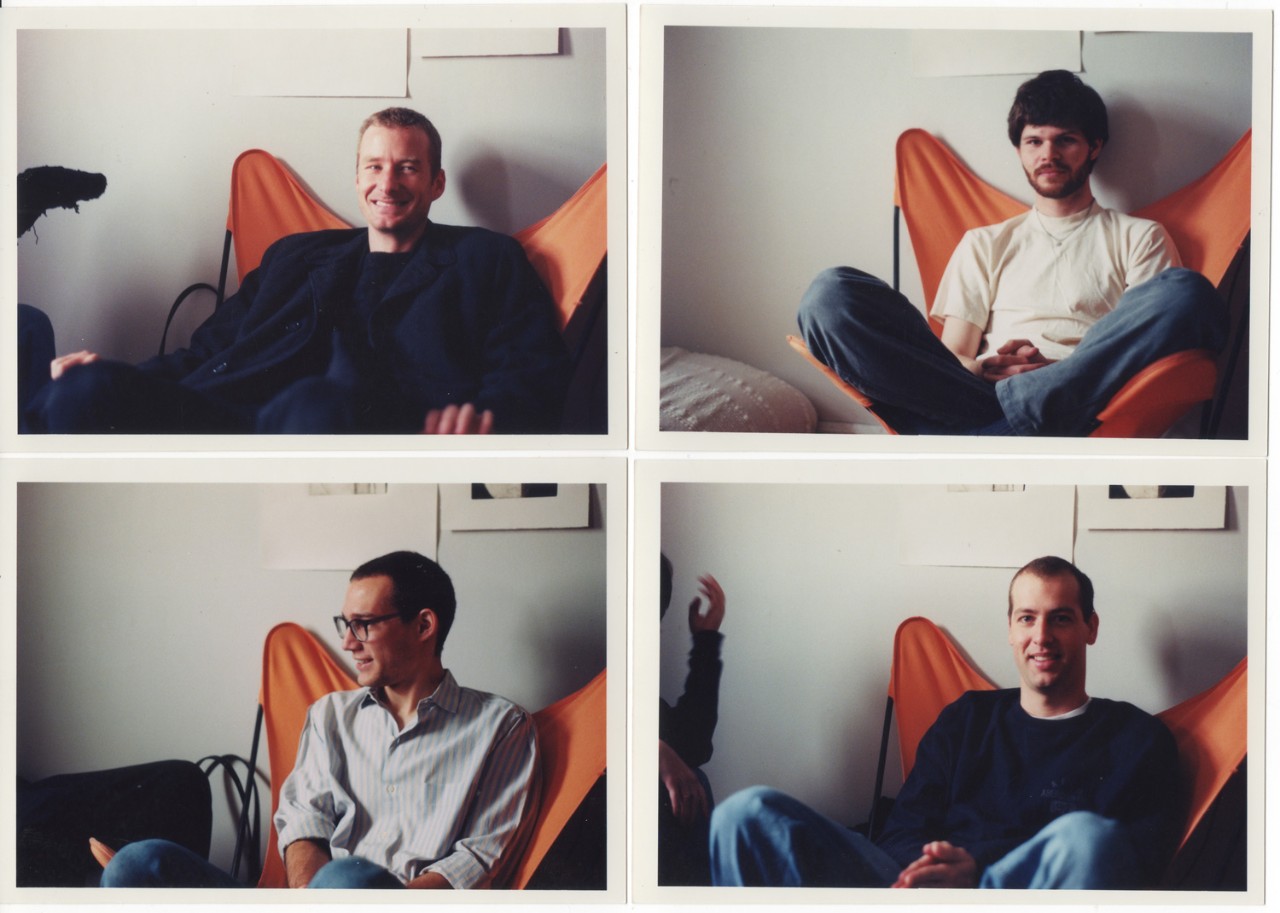 "I don't know why a Greek restaurant has a stage and a dance floor, but it does," Berninger says, laughing. "We used to go there for salsa nights and dance salsa and drink. We just thought it was a good vibe."
While Nancy was mainly a fun creative outlet at the time, the experience helped prepare Berninger as a performer.
"Just those couple of gigs we did — which were terrifying and terrible — made me have the guts to try it again and get onstage in New York City," he says.
Most of Nancy relocated to New York City after graduation, continuing to play music as a hobby. Reas eventually moved to pursue a graduate degree, leaving his drumset behind in Berninger's Brooklyn loft. Devendorf was hired by a small design firm doing print materials for art books and catalogues for museums like the Guggenheim. Berninger joined one of the first digital media agencies at the time. He redesigned websites and created campaigns for companies and products ranging from the Metropolitan Museum of Art to engineering parts to Viagra. Berninger rose through the ranks quickly, working his way up to creative director.
Meanwhile, the other future members of The National — Devendorf's brother Bryan as well as twin brothers Bryce and Aaron Dessner — made their way from Cincinnati to New York. The five formed The National in 1999, making music after work, gigging around the city and developing their sound, now defined by their somber rock tunes wrought with emotion from Berninger's melancholic lyrics and deep, soothing voice.
In the early 2000s when the tech bubble burst, Berninger left the agency to focus solely on The National. By this time, they had put out a couple records and organized some tours, and all members were pursuing the band full time.
That's not to say their design work has ended. They've had a hand in all their record album designs, and Devendorf points out the many visual aspects to music, including live shows, posters, merchandise and music videos. In fact, they recently collaborated with former bandmate Reas for a series of videos for their latest album. Reas took film footage of the band and ran it through multiple visual effects using an open-source programming language he co-created called Processing.
Instead of using software to edit photos or create illustrations, designers and digital artists can use Processing to write their own software, giving them more control and authorship over their project. For The National videos, the result is like watching the film footage through varying dreamlike filters with images layered on top of one another, fading in and out.
Throughout the creative process of making these videos, Devendorf and Berninger were continually impressed by Reas' skills.
"It was awesome because he's a genius," Devendorf says. "The band loved it, too, so it was a really easy and fun collaboration."
For Reas, it was a welcome opportunity to join forces with his former band members and classmates again.
"We used to collaborate very frequently, and then we went on our separate paths for many years," he says. "So to work together again was wonderful."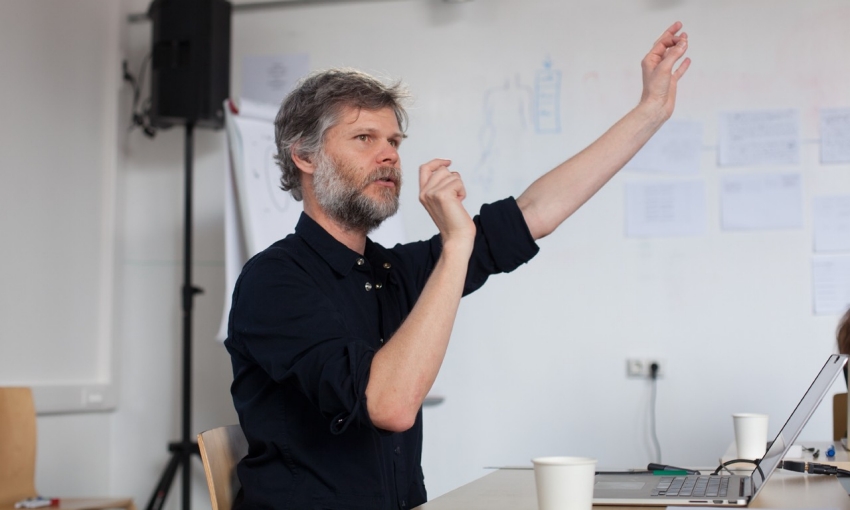 While Berninger and Devendorf understandably don't make it back to UC often — they were last on campus in 2012 to encourage students to vote — they look back on their time here fondly.
"We gained a lot," Devendorf says. "Everything about the program really helped us in what we do today. The internships and communal living aspect at DAAP built some really strong bonds."
"I became a lover of music at UC," Berninger says. "Being around all these creative people, drinking coffee and listening to rock music while we worked on design projects all night long — that was where I really dove in and started studying musicians and obsessing about the writing.
"It was a formative experience in terms of friendships, music and art."

Nearly 20 years after the band's formation, The National received its first Grammy Award in January, winning Best Alternative Music Album for "Sleep Well Beast." The band is also curating the aptly titled Homecoming Festival in Cincinnati April 28-29, which will feature more than 20 acts and citywide events, including performances by The National.

Jac Kern is a public information officer at the University of Cincinnati and contributes to UC Magazine.
Additional Credits: Thanks to designer Margaret Weiner as well as web developers Kerry Overstake and Carolyn Noe for helping to develop and present the content contained in this piece.
Inspired by her mother, DAAP alumna launches clothing line for women recovering from breast surgery.
The 1991 implosion of UC's Sander Hall continues to reverberate with the upcoming release of a powerful new book about the building's architect from the perspective of his daughter.
Matt Berninger and Scott Devendorf of alt-rock band The National reflect on their formative years at UC.
UC's new high school ambassador program could serve as a national model for helping low-income and first-generation students attend college.
How a local man gained precious time with his family thanks to innovative UC cancer treatment.