UC Telefund is changing UC
by Tim Russell, A&S '05, project coordinator, marketing, communications, UC Foundation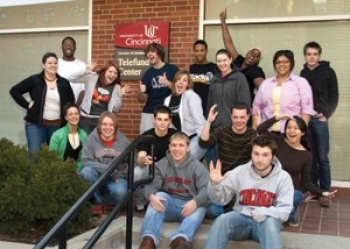 Some of the most profound activity on campus is taking place in the most inconspicuous location by the most unexpected change-agents. In the old band room in Armory Fieldhouse, 55 students have part-time jobs that entail chatting with alumni and raising money -- nearly $2.7 million in the last two years.
Telefund is the university's largest outreach program to alumni, parents and friends, with more than 58,000 connections made last year. Working through the Telefund Calling Center, student-callers provide alumni with updates about recent news and events at the university, then ask alumni to support the UC Annual Fund on behalf of their colleges.
Students talk to alumni from all generations and from all across the country. Sometimes these students are the only contact some alumni have with UC each year. That makes them ambassadors for UC in a unique way, which is an important part of working at Telefund, according to Stephanie Mundrick, CAHS '09.
"We speak with many people who say we're their only contact with UC, and a lot of times those individuals have not been to campus in years. We try to tell them how things have changed since then and get them interested in reconnecting with the university. If they can't make it back to campus, we tell them how to take a tour through our Web site."
An interesting part of the job for callers is talking to alumni who graduated from the same program they're currently enrolled in. Chu Ndulue, A&S '08 (psychology), says alumni open up much more when they realize they have something in common.
"When I tell other psychology graduates that I'm studying psychology, they usually share stories about their time at UC. Sometimes they'll ask if a professor they had is still here, or if a certain difficult class is still required. Even though we've never met in person, we form a bond because we've had a similar experience."
Aside from sharing information and news, students have achieved record levels of financial support for UC, raising $2,667,683 over the last two years. In addition, the students contacted a record number of alumni in that time - 113,692.
Their success is exciting to student callers like Ben Moore, Ed '08 (criminal justice). "We take pride in our jobs. We're here to make the university a better place and reinforce the connection alumni have with UC. When we see these results, it makes us feel good about what we do."
Of course, these record successes are possible only because of the generosity of UC alumni, parents and friends who provide crucial yearly support.
"Contributions received through Telefund and other efforts speak volumes about how alumni view their alma mater," says Michael Carroll, the university's vice president for Development and Alumni Relations and president of the UC Foundation. "UC is important to them. They feel that investing in its future is a worthwhile cause. We try to keep their connection to UC strong and make it as easy as possible for them to contribute as they choose."
For more information about Telefund or making a gift to your college, contact Judy See, director of Annual Giving, The University of Cincinnati Foundation, (513) 556-6724 or email to judy.see@uc.edu.