More than 5,000 alumni responded to the UC Alumni Association's recent Alumni Attitude Survey, providing feedback on their views of the university, their educational experiences and the value of their degrees.

Compared with results from 230 other colleges and universities as well as UCAA's prior results, the data reveals where alumni see areas of both satisfaction and need.

"Serving nearly 300,000 diverse alumni around the world, we rely on hard data to shape our organizational priorities, deliverables and ultimately our ability to enhance the UC alumni experience," says UCAA executive director Jennifer Heisey, A&S '97.

"The survey findings told us that our alumni place a high value on greater volunteer and networking opportunities, new pathways toward student mentoring and more career development resources. We are strengthening our operations to meet these and other important needs."
97% of UC alumni consider their decision to attend UC to be "good" or "great." The percentage calling their decision "great" outpaces the national average.
91% UC alumni who say they had a good to excellent student experience.
93% of UC alumni feel that value of and respect for the UC degree have a "critical" or "significant" impact on their opinion of UC.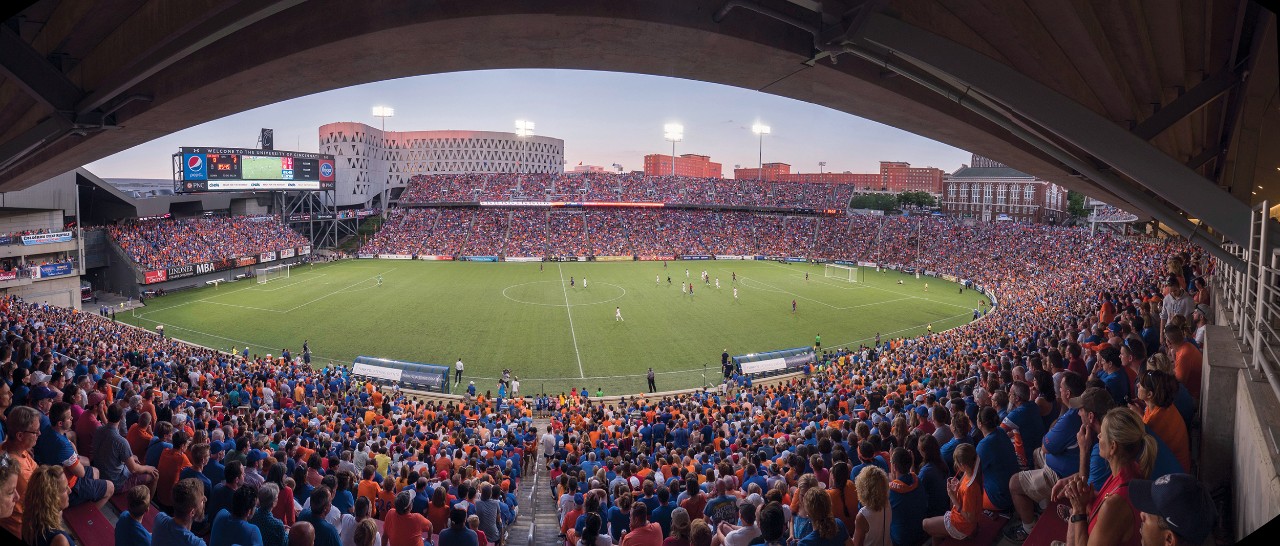 When it was announced last year that Cincinnati would be home to a new United Soccer League club, many wondered if fans were ready to welcome a different type of football to UC's Nippert Stadium.

It didn't take long to get an answer. Before the Futbol Club Cincinnati (FCC) even played its first match, three supporter groups were formed. Thousands bought season tickets and FCC merchandise. The team set an ambitious goal of averaging 10,000 fans per game at Nippert.

In the months since its inaugural season began, FCC has become more successful than imagined, both in terms of the team's performance and the fans' support. Game highlights have been featured on ESPN, which is rare for lower-level professional leagues, while fans are helping the team regularly break league attendance records. More than tripling that 10,000-per-game goal, FCC drew 35,061 fans to a sold-out friendly against English Premier League club Crystal Palace on July 16.

Perhaps no one is more excited that professional soccer has landed at UC than FCC forward Omar Cummings. A former Bearcat, Cummings has truly come full circle in his career. Originally from Old Harbour, Jamaica, he played for UC from 2005-06 and was named to the 2006 NSCAA All-American first team — the first Bearcat to earn the honor. A decade later, Cummings traded his red and black for FCC's orange and blue, and he made his own homecoming of sorts by kicking the winning goal in his debut match.
Just for kicks with Omar Cummings


How does it feel to be playing on campus again, 10 years later?

Totally different. Never expected it. The closest I thought I'd be able to play in Cincinnati would probably be Columbus Crew, on a professional level, so just to have it here, in Cincinnati, at UC — I'm blown away.
What were the first places you wanted to check out when you moved back to Cincinnati?
My buddy [Leo Morgan] at Island Frydays — definitely a place I wanted to check out, a Jamaican spot. We used to have our pregame meals at Martino's, and we had an alumni dinner there when UC soccer had their alumni weekend, so that was great.

What are some of your favorite memories at UC?

Well, a lot of it has to do with, of course, the soccer team: preseason, running the Cooper [fitness test], winter gym sessions, practicing on Gettler. I have a lot of memories there.

Soccer is a sport that so many locals have experience with — either as a childhood player, fan or parent. Is the support for leagues something new or is it just all coming together now?
I think it's all coming together, really. There's a big youth group here in Cincinnati — a lot of kids play. I think as MLS grew, and the interest just got better in the States with the national team and the women's 
sport, I think that helped people gain interest in American soccer.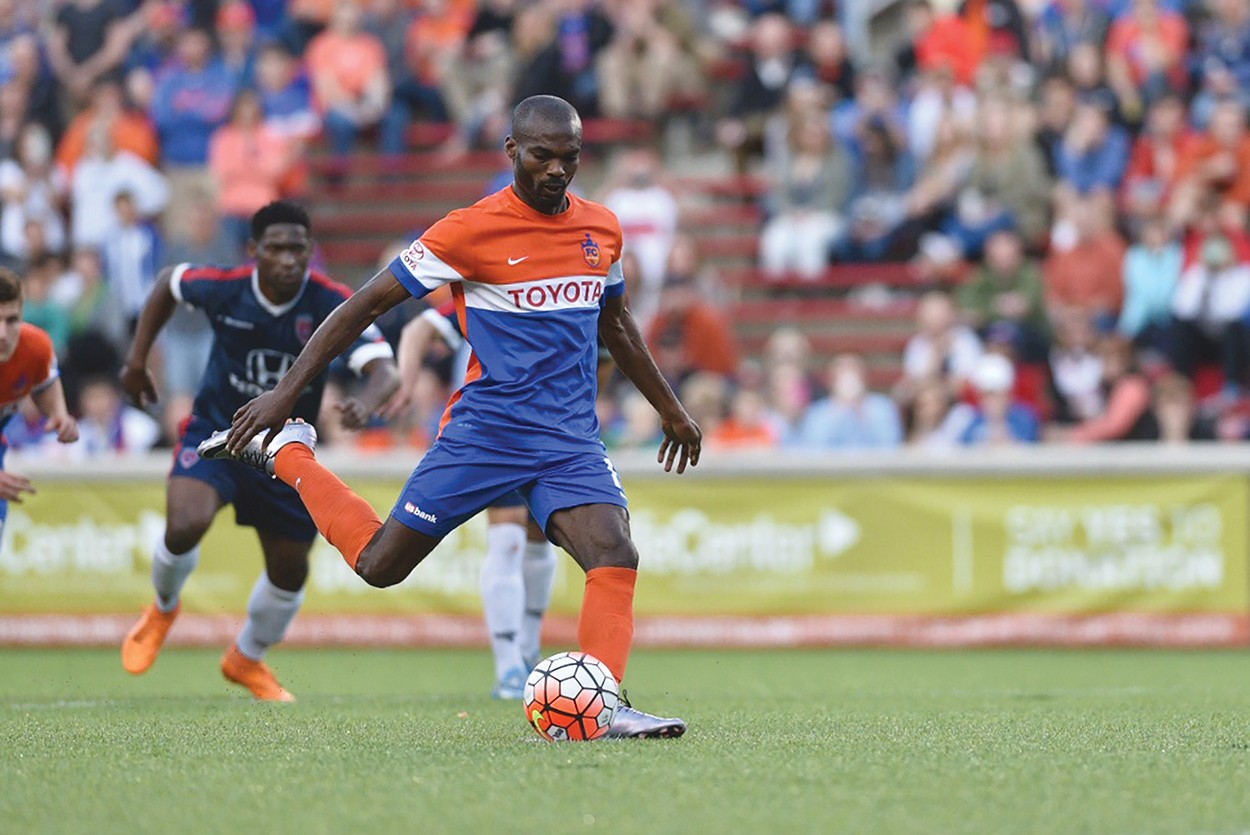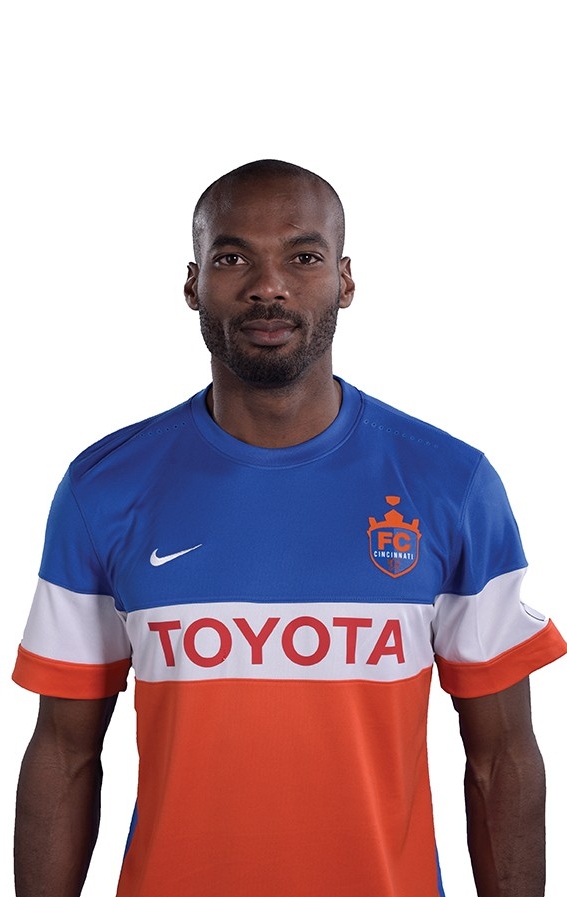 UC's inaugural Dash & Bash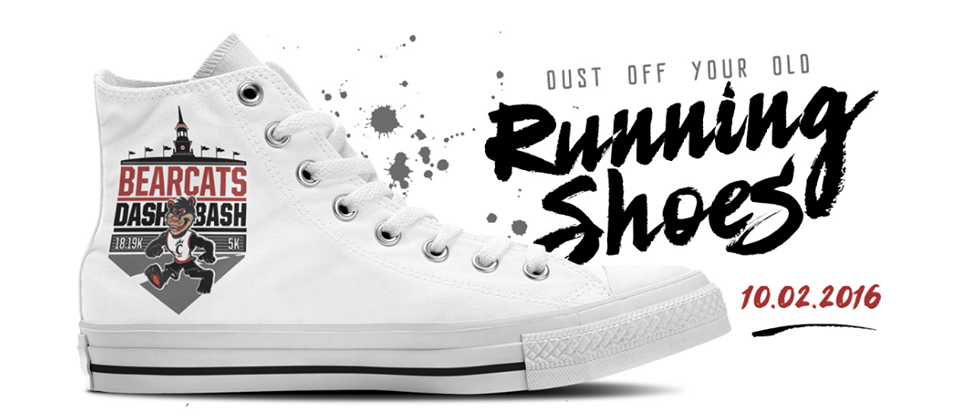 Join a tradition in the making at the inaugural Bearcats Dash & Bash — a couple of foot races and a celebration — on Sunday, Oct. 2. The races — a 5K and an 18.19K (in honor of UC's founding year) — will wind through UC's campus and finish in the footprint of the newly renovated Nippert Stadium. The 18.19K takes runners through Clifton's historic gaslight district and picturesque Mount Storm Park.

Proceeds benefit the UC Athletics scholarship fund and the Ohio Innocence Project within the Lois and Richard Rosenthal Institute for Justice at the UC College of Law, which to date has helped 24 wrongfully incarcerated individuals obtain their long-sought freedom. Learn more and register.
After receiving a record-setting number of submissions — nearly 150 — judges selected the winning design for UC's annual Bowties and Scarves for Scholarships student design contest. Sean Nelson, a fourth-year industrial design student at DAAP, was inspired by the pavers on MainStreet, the pathway that stretches from University Pavilion to Campus Green. His design was chosen to be professionally produced and sold to benefit UC scholarships.

To get your own MainStreet-inspired bowtie or scarf, either donate $57 or more to the Bowties and Scarves for Scholarships Fund or register to attend the Oct. 13 luncheon. You can donate or register at uc.edu/bowties. All proceeds benefit need-based scholarships for UC students.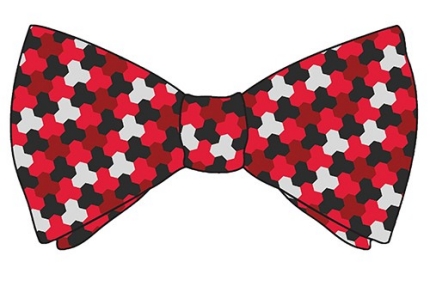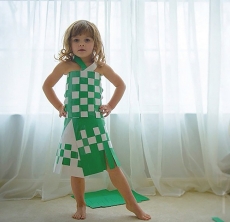 Last spring's UC Social Media Week allowed students, faculty, staff and the community to come together and share their experience with social media as an influence for real change in the world.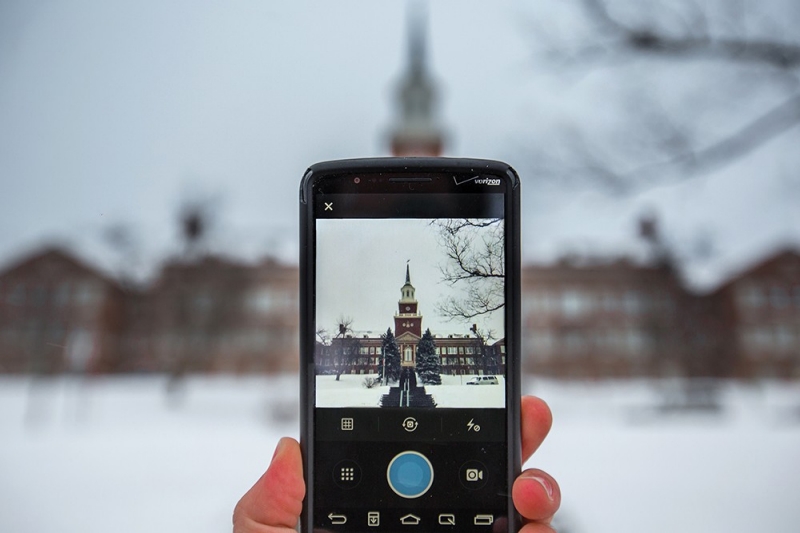 This year's event included a social media summit with speakers from the Cincinnati business community, UC faculty and staff members and special keynote addresses featuring social media managers for the Cincinnati Reds and Bengals.

Highlights also included Pinterest parties with crafts from Paper Acorn and Guild Collective, complimentary professional headshots, a bus tour by Cincinnati Metro and social media-themed movie nights.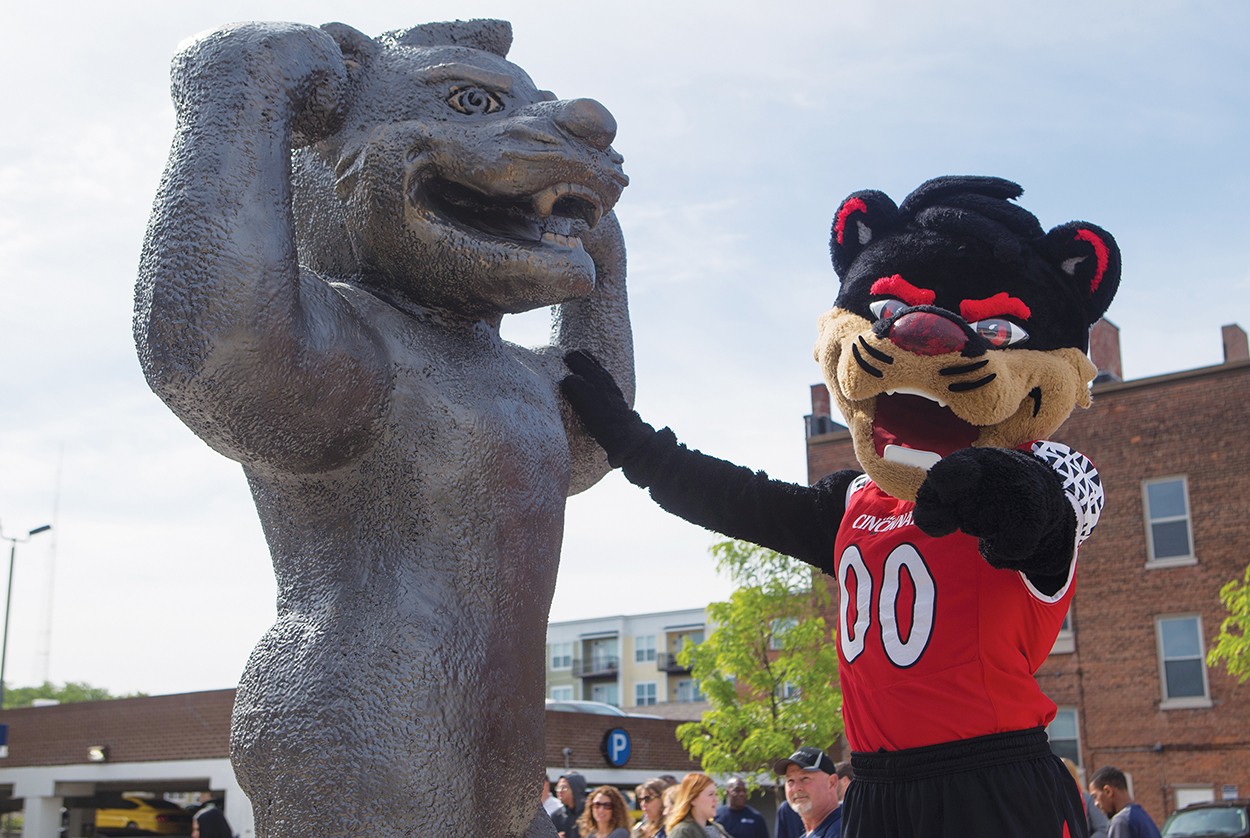 Standing 8 feet tall and weighing in at more than 400 pounds, a new Bearcat statue has been installed near campus in Corryville's burgeoning Short Vine district.
Locals may recognize sculptor Tom Tsuchiya, A&S '95, as the artist behind the bronze "Reds Legends of Crosley Field" sculptures outside Cincinnati's Great American Ball Park. He also created the NFL's Madden Most Valuable Protectors Award and designed the 52-foot-tall Jesus statue that resides at Solid Rock Church in Monroe, Ohio.
Tsuchiya's Bearcat resembles UC's fun but fierce mascot — last redesigned in 2006 — more than the wild binturong depicted in Jon Hair's 2010 sculpture on campus.
The result is a grinning, flexing Bearcat permanently planted near the bustling Short Vine sidewalk — a reminder that UC's presence extends beyond the campus property line. In fact, as a UC student, Tsuchiya lived just blocks from the statue's location.
"It is definitely a sentimental connection for me because I'm a very proud Bearcat alum," said Tsuchiya after the sculpture was unveiled. "It is great to sculpt the actual spirit symbol of the university."
The statue stands in front of the new headquarters of Uptown Rental Properties, led by CEO Dan Schimberg, who partnered with UC to complete the project. Along with new businesses, housing units and revitalization efforts, the Bearcat ushers in a new era for the storied neighborhood.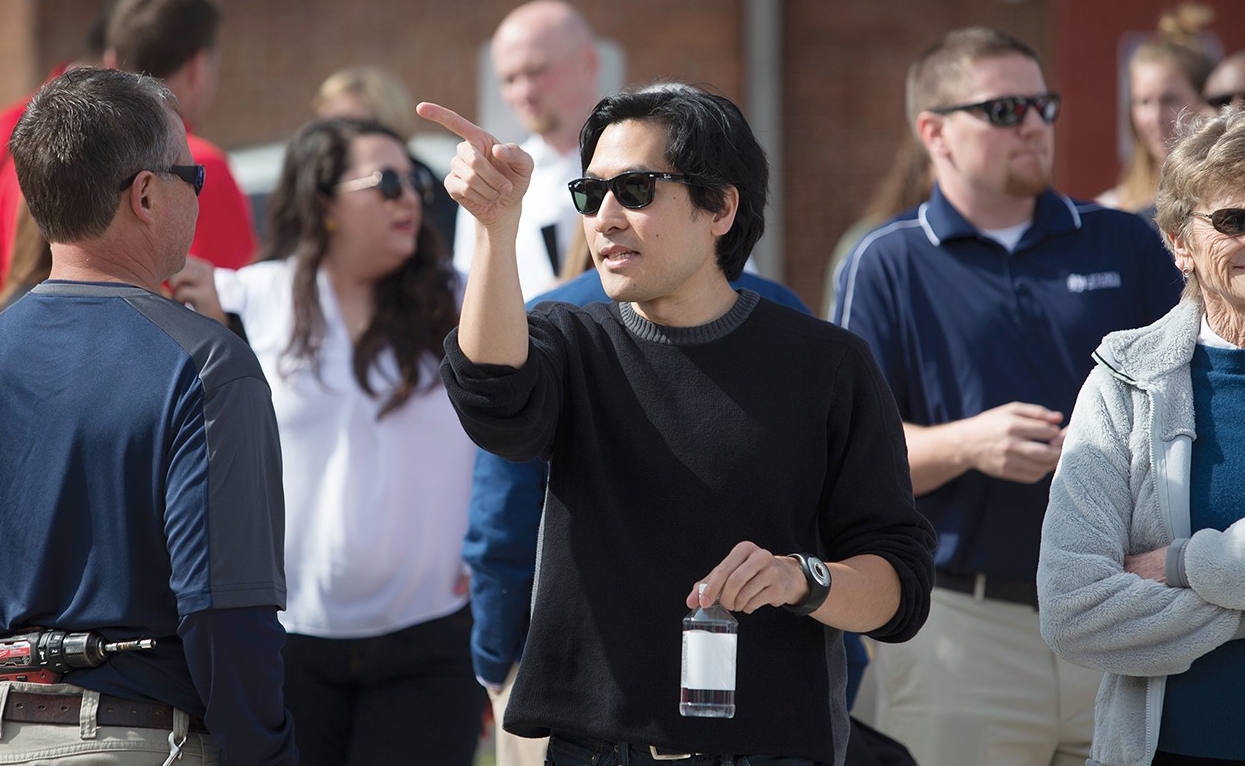 Liver transplant recipient gives back big

Jim Orr thought he was in good health when a routine physical turned up elevated enzymes. Further tests revealed inoperable primary liver cancer, and he was told he had six months to live. That was 2013.

Fast forward roughly three years, and the retired CEO of Convergys Corp. celebrated being cancer-free by making a $1 million donation to the UC Health Transplant Program to help establish an endowed chair focused on liver transplants. His doctor, Shimul Shah, director of liver transplantation and hepatobiliary surgery at the University of Cincinnati Medical Center and associate professor of surgery at UC, was named the first chair holder.

"Many programs wouldn't have taken [Orr], but we took a chance," said Shah. "When you're part of the UC Health liver transplant program, you're part of our family. We're in it together."
Orr traveled the country to consult with the best doctors and ultimately landed in his own backyard for treatment.

"We are grateful for the gift we have been given and are thankful to the organ donor and their family as well as Dr. Shah and the outstanding team who made this possible," Orr and his wife, Cathy, said. "Our gift is intended to support having an outstanding transplant program available to all the people of our Cincinnati region."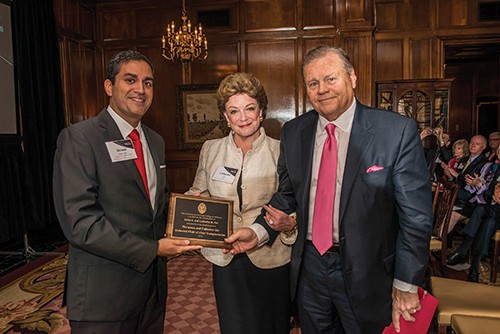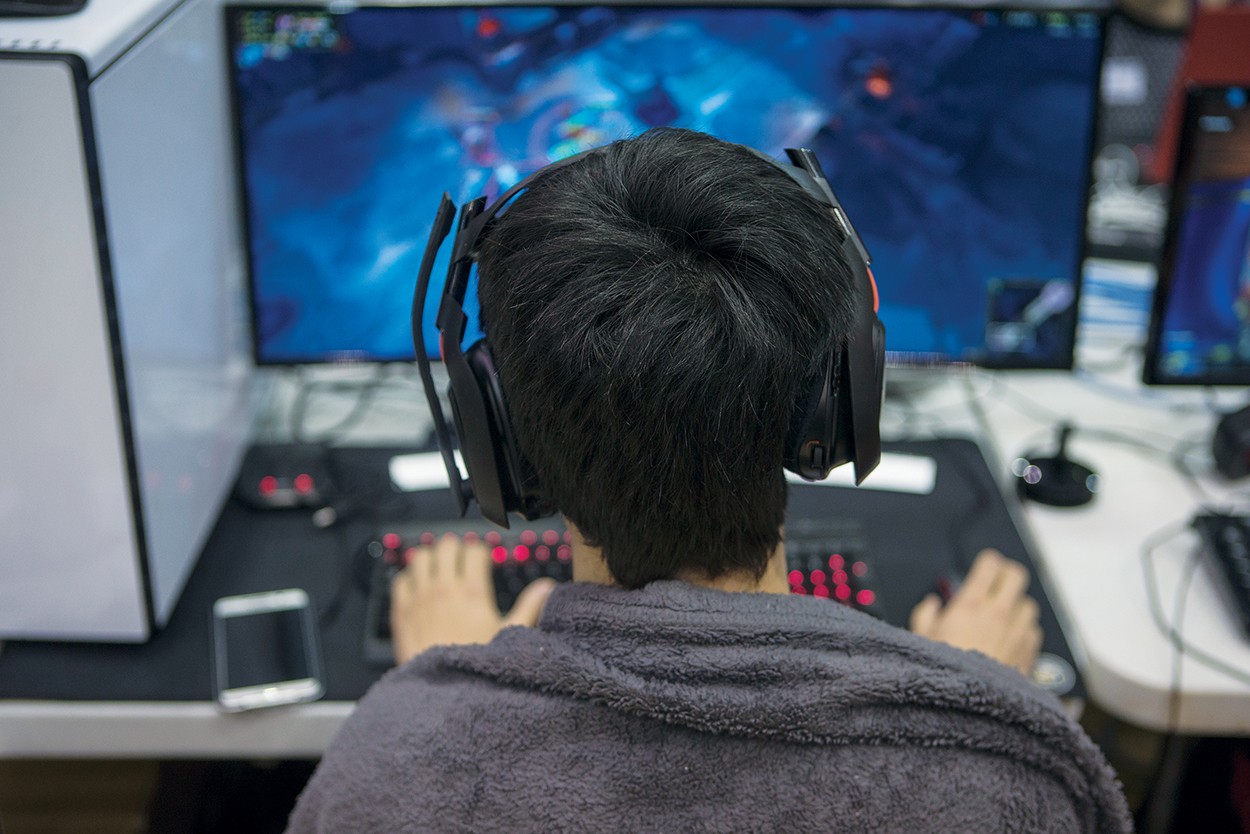 Access to cutting-edge technology is imperative for students and faculty alike. The Office of the Provost awarded $1 million in funding to nine projects across UC colleges and organizations as part of the 2016 Provost Technology Innovation Awards.

Projects include:
A virtual clinical experience platform for UC Academic Health Center students (colleges of Nursing, Medicine, Allied Health Sciences, the James L. Winkle College of Pharmacy and UC Informational Technologies)
New software and hardware to improve the Center for Cognition, Action & Perception (McMicken College of Arts and Sciences and the College of Engineering and Applied Science)
A video game development laboratory customized with the specialized hardware and software necessary for an Information Technology Game Development program to prepare students to join an industry worth $91.5 billion (College of Education, Criminal Justice, and Human Services)
An architecture robotic lab to research robot-aided construction and 3-D printing (College of Design, Architecture, Art, and Planning)
An upgrade to the Bartlett Television Center in Mary Emery Hall with professional-level video production technology (McMicken College of Arts and Sciences and the College-Conservatory of Music)
A video and digital media creation studio at the Walter C. Langsam Library (UC Libraries, the Digital Media Cluster and UC Student Government)
The creation of an Online Central Marketing Hub to improve UC's eLearning environment (colleges of Nursing; Education, Criminal Justice, and Human Services; Allied Health Sciences; and the UC Marketing Division)
New video hardware and software implementation, plus the incorporation of iPads across the curriculum at UC Blue Ash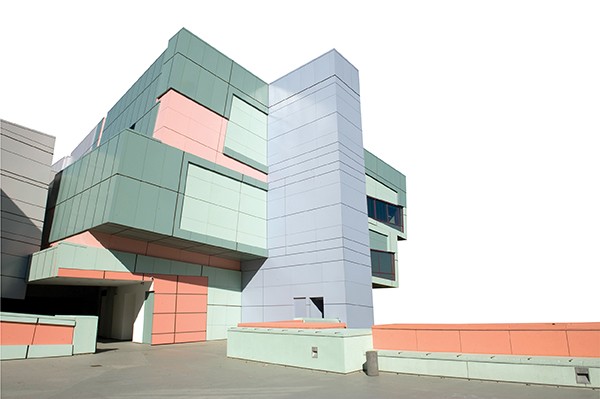 School of Design gets new name

UC renamed its School of Design within DAAP the Myron E. Ullman, Jr. School of Design in appreciation for a $10 million gift (made in April 2007) from alumni Cathy and Myron E. "Mike" Ullman III. Ullman, Bus '69, HonDoc '06, is the current chairman and former CEO of J.C. Penney Co.
The School of Design's new name honors his late father, an inventor with nearly 50 patents who devised solutions to everyday problems — like his invention of the modern dishwasher in the 1950s — often by solving complex design challenges.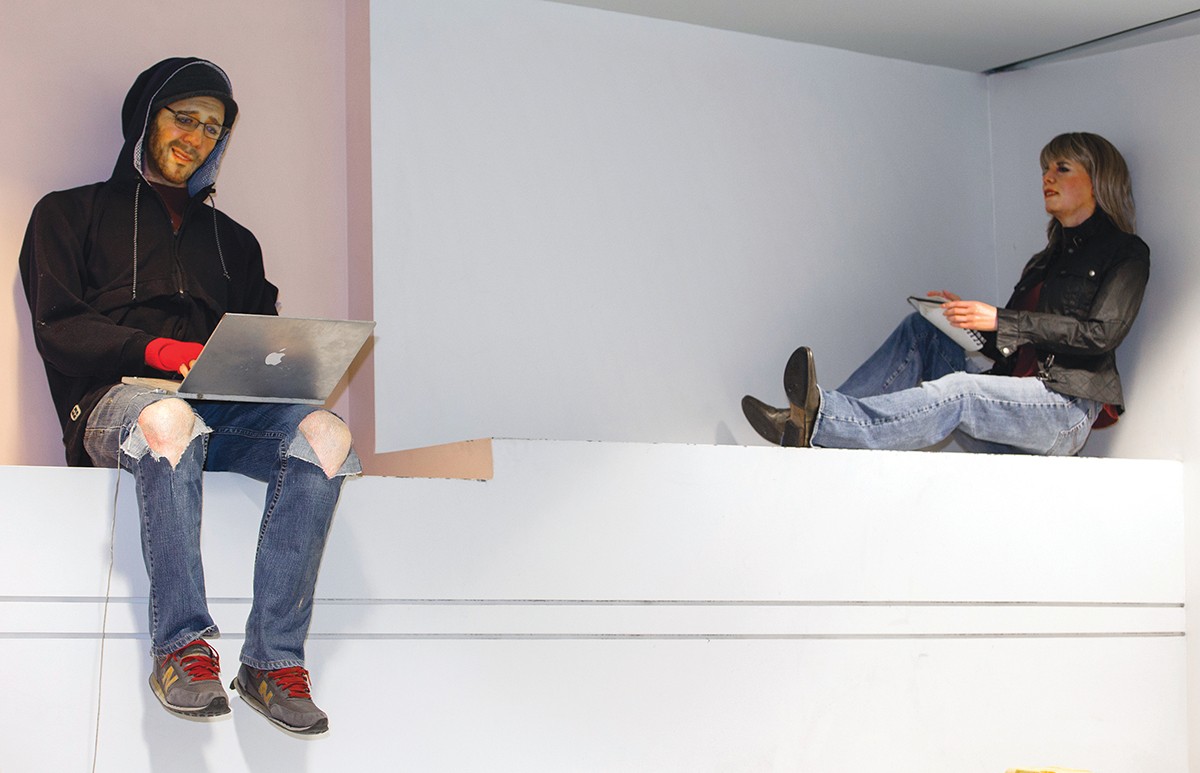 Ask any DAAP students from the last decade if they're familiar with "Ethan," and they'll probably have a story. You wouldn't even need to mention a last name. He doesn't have one.
Students leave notes for him, asking for help with finals or dates. The uninitiated are likely to be surprised by him. The college's Dean Robert Probst refers to him as "the patron saint of DAAP."
And if Ethan could talk, he'd have some stories, too. He'd talk about the time former DAAP Dean Jay Chatterjee mistook him for a student and yelled at him to come down from the ledge above the college's grand staircase. Or the night he took a trip across campus on the shoulders of a student prankster who anonymously returned him soon after. Maybe the one about how he just got a makeover, clean clothes and a companion all in one week.
Of course, Ethan can't talk, because he's a sculpture by 2005 DAAP grad Alan Marrero. Created as part of an Installation Art course, Ethan was something of a life-sized self-portrait, modeled after Marrero. He wore real clothing: torn jeans, sneakers and a hoodie. Seated with a computer on his lap, Ethan looked very convincingly like a student at work.
Marrero displayed Ethan on a ledge 15 feet above the college's main entryway, where students, faculty and staff immediately took notice. The objective of the project was to display a sculpture in DAAP for a week.
Over the next decade, though, Ethan remained in place, quickly gaining celebrity status. Meanwhile, Marrero eventually landed in Seattle, where he now lives with his wife, 2007 DAAP grad Mary Fialko.
While their time at DAAP overlapped, Marrero and Fialko never met during college and were instead introduced through mutual friends while in town for the holidays in 2009. Another chance encounter in Seattle a few months later cemented their relationship.
The couple married earlier this year. And now, like Marrero himself, Ethan has found a life partner.
In December 2015, Marrero was commissioned by DAAP to create a sculpture of Fialko — named "Violet" — and redesign the original piece, which had aged over time. He returned for a week this past May to create the new hyperrealistic pieces. Violet is now seated near Ethan on that same ledge, only she appears to be sketching on paper.
As Marrero and Fialko enjoy life as newlyweds, Ethan and Violet are joined as a permanent installation — a rare designation for what started as a student project.
"I hope that Ethan and Violet last as long as there are students in these halls," Marrero said at the unveiling.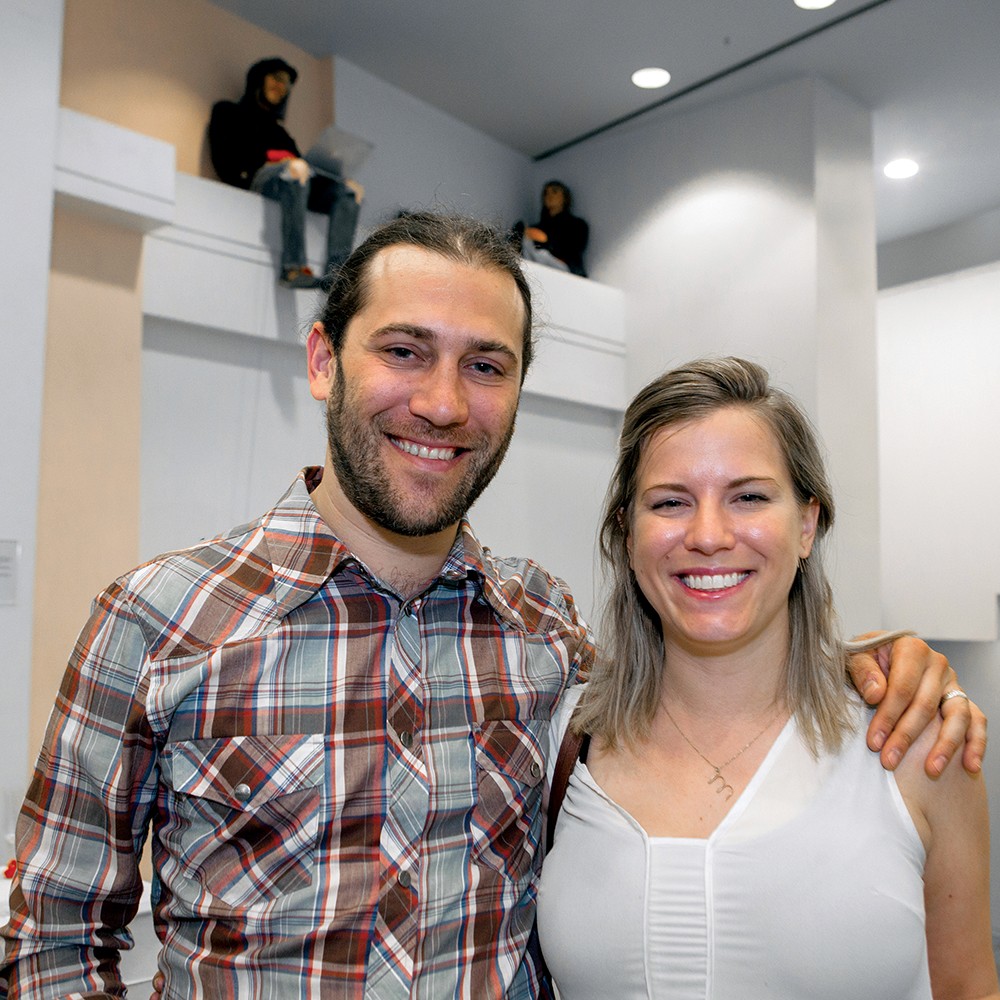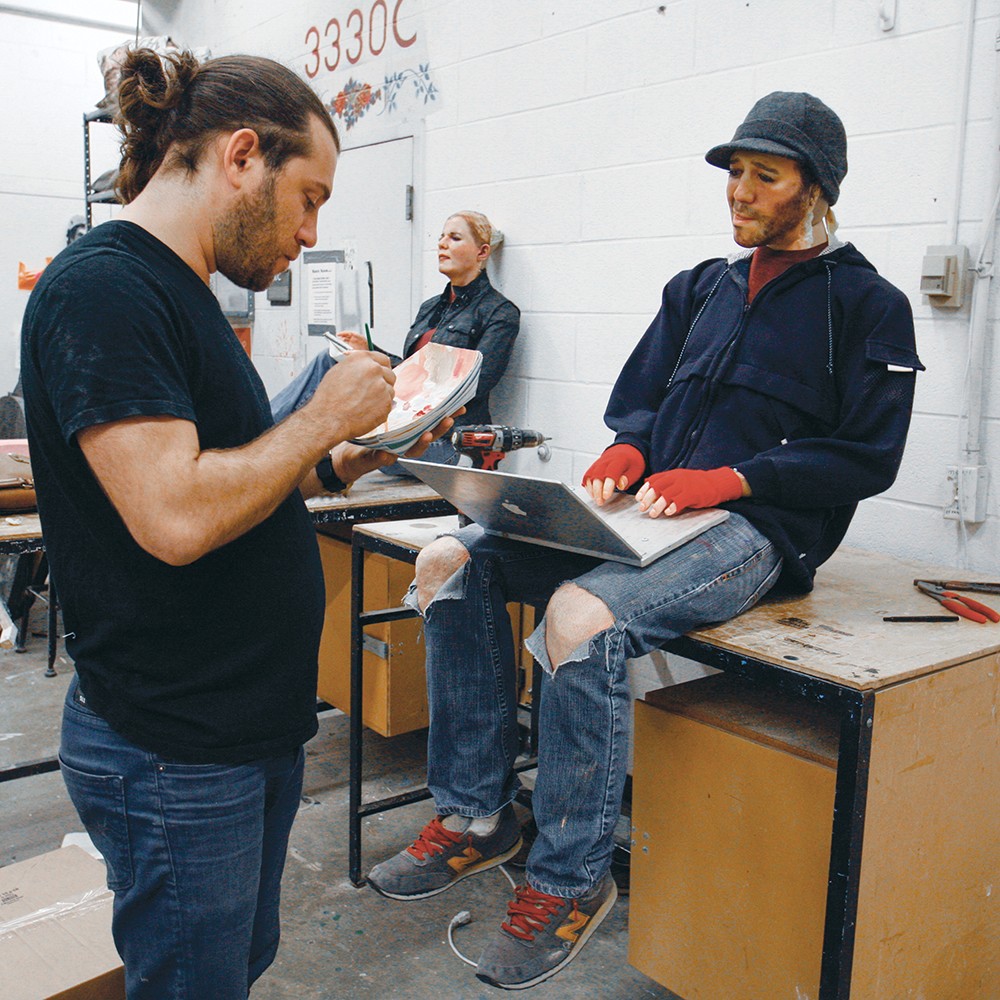 Make room for Gen Z

As UC's next generation makes its way onto campus, find out what makes them tick.

Finding strength

One UC grad's battle with cancer pulled family, friends and the UC medical community into the fight for her life.

Accidental activist

A simple hike led one UC law grad to spend two decades standing up for old-growth trees in the American West.