Five musicians in their first semester at CCM are winners of a new diversity fellowship that promotes inclusion in American orchestras.

Emilio Carlo tagged along with a high school friend to a Kennedy Center rehearsal when he first heard the dissonant swell of Anton Bruckner's Symphony No. 9. At that moment, he knew he wanted to be an orchestral musician.
Born and raised in the Bronx, Carlo, pictured above, lived in the birthplace of hip-hop music but never considered a career as a musician. He had never even been to an orchestral concert, yet hearing Bruckner's No. 9 that day set a new course for his future.
Fewer than 5 percent of American orchestra musicians are African-American or Latino, according to the League of American Orchestras. With that statistic in mind, the College-Conservatory of Music partnered with the Cincinnati Symphony Orchestra (CSO) to create the Diversity Fellowship — a four-year pilot program that will produce two classes of graduate-level string players from communities that are traditionally underrepresented in classical music.
"We are challenging the status quo of our industry to make the performing arts more accessible," says interim Provost Peter Landgren, who was instrumental in launching this fellowship while he was dean of CCM. "Music should serve as a vehicle to reach people of all backgrounds as an inclusive art form. With this fellowship, we hope to move the needle of diversity on a national scale while fostering the education and professional development of these talented musicians."
Diversity Fellowship Class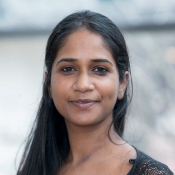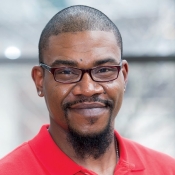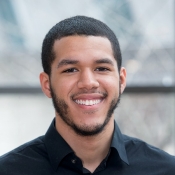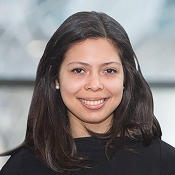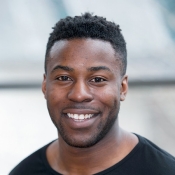 The first five musicians are in their first semester of the Diversity Fellowship, balancing schoolwork with CSO rehearsals, performances and community engagement activities. They earned their spots in the program, having competed with nearly 100 musicians from across the globe.
Funded by a $900,000 grant from the Andrew W. Mellon Foundation, the CSO/CCM Diversity Fellowship is the first of its kind to pair a major conservatory with a major orchestra. Fellows will have the opportunity to perform with the CSO for the equivalent of five weeks per season while enrolled in a two-year Master of Music or Artists Diploma program at CCM. The first group has already begun classes, and applications for the second group of fellows opened in August.
The inaugural Diversity Fellows are: Emilio Carlo, 21 (viola); Diana Flores, 26 (cello); Blake-Anthony Johnson, 25 (cello); Vijeta Sathyaraj, 27 (violin); and Maurice Todd, 37 (double bass). They hail from New York, Georgia, Kentucky, Costa Rica and Hong Kong. Some have been studying to become musicians since they were young children; others waited until college to pursue the arts.
Using a broad definition of diversity that transcends race and culture, the Diversity Fellowship is also open to those who took nontraditional pathways to higher education and first-generation students, as well as those who have included diverse backgrounds and perspectives in their learning. The program's tagline — Bravos Without Barriers — gets to the heart of its mission.
"Music provides the opportunity for international connections," fellow Vijeta Sathyaraj says. "It can build bridges that transcend divisions of politics, language and ethnicity. There are vast populations around the world who are starved for great music, and it is with these populations that I see my purpose. I hope that increased diversity in orchestras will lead to broadening audiences."
---
We are challenging the status quo of our industry to make the performing arts more accessible.
Being of South Indian heritage, Sathyaraj said she didn't have any mentors of the same background. She sought out programs and teachers on her own to carve her path to becoming a musician. Along the way, she organized and performed to raise $3,000 toward development work in Hanoi, Vietnam.
Many of the fellows found musical mentors in their own families. Emilio Carlo's uncle, for example, was a famous salsa singer in Puerto Rico, and his cousin is a recording jazz trumpeter. Carlo said his grandfather had the biggest influence on his musical career. Whether they were in the car, walking on the street or at home making breakfast, Carlo's grandfather always had salsa, jazz or hip-hop music playing.
Maurice Todd, a Kentucky native, remembers being mesmerized by the sound of his aunt playing the violin while she babysat him as a child. From that point on, he knew he wanted a professional career in music.
"I come from a family that is very expressive and musical, whether it be classical violin, singing or [playing] the mountain dulcimer," Todd says. "I have been around some form of music as long as I can remember."
Like Todd, Diana Flores says there is a "strong artistic vein" that runs through her family. At age 9, she began studying the cello in Costa Rica because she wanted to be like her older sister, a pianist. Now she hopes to become a role model and advocate for Hispanic women in the arts.
"I know that a big part of my love for music is the social aspect," Flores says. "It would be very special for me, as a Latina woman, to know that one day I can inspire young people studying classical music."
Blake-Anthony Johnson had an unorthodox beginning to his cello studies, being self-taught until he entered college. He didn't decide to pursue a professional career as a cellist until his second year at Vanderbilt University. An advocate for music education, Johnson later became a founding member of the Music Education Youth Initiative, which serves underprivileged children in Nashville.
"The CSO musicians involved in the audition process were blown away by the quality of applicants, which verifies for us the necessity of this fellowship," says CSO President Trey Devey. "It advances the orchestra's already strong and award-winning commitment to more inclusiveness and benefits the entire community by giving audiences the opportunity to witness such incredible talent."
Along with the professional performance experience, fellows receive focused mentorship from CSO musicians and regular instruction from CCM faculty. Their mentorship includes coaching sessions before each rehearsal cycle, ongoing "stand partner" coaching and post-performance feedback. They also receive non-performance related mentorship such as career counseling and audition preparation.
Funding can be a significant barrier for budding musicians as the costs of private lessons, travel, instruments and schooling accrue. Fellows receive full-tuition scholarships to CCM, a $10,000 per year stipend and a one-time Graduate School Dean's Excellence Award of $3,000. They are also compensated with $8,000 per season while performing with the CSO.
"Whether it be an American symphony or an ensemble across the globe, winning a position as an orchestral musician of color is a huge accomplishment not only for us but for our families and our communities," Carlo says. "By changing the face of the symphony, we are helping to break boundaries and stereotypes set for us by society. I plan to use this incredible program to my full advantage and hope to inspire many young people of color to pursue their passions, whether it be music or any other career field they choose to enter."


Rebecca Butts
Rebecca is the assistant public information officer in the College-Conservatory of Music and a contributor to UC Magazine.

Make room for Gen Z

As UC's next generation makes its way onto campus, find out what makes them tick.

Finding strength

One UC grad's battle with cancer pulled family, friends and the UC medical community into the fight for her life.

Accidental activist

A simple hike led one UC law grad to spend two decades standing up for old-growth trees in the American West.