University of Cincinnati Magazine letters to the editor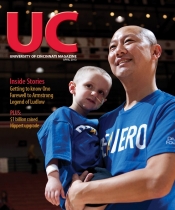 I have just finished reading the April 2013 issue and thoroughly enjoyed it. I always scan the magazine, but this is the first time I have actually read the entire issue. Good job!
Carla Andrews, Nur '65
El Macero, Calif.
Every time I look at the front cover of the April UC Magazine, I smile and think how adorable. It's such a perfect shot! It says so very much about our UC president! Thanks!
Mary Davis, administrative secretary
School of Computing Sciences and Informatics
UC College of Engineering and Applied Science
---
Call to donate sparks memories
The phone rang, and I was sure this was another robo-call. Believe me, I was in a defensive mode, ready to make short business of this call.
When I realized the voice on the other end was from a student from my alma mater, I blurted out in a relieved manner, "Oh, you're not a political call!" My caller chuckled and proceeded with the message I receive annually — thanking me for my previous gift to benefit students attending the University of Cincinnati and wishing to update information.
Then, to my caller's surprise, I finished the message for him by saying if he would send me the material I would return it with my check. By this time, we were in a chatty mode and fast becoming buddies.
"Have you visited the campus recently?" he asked. "Not since my 50th reunion," I replied and hurried on to say that visit was in 1992. "There are lots of changes, new buildings extending to the east of the old campus area, and extensive green space," he said.
I asked about his studies and learned he is a sociology major. That was all it took for us to bond as old friends.
I reported, of course, that I was a "soc" major; had loved my classes under Dr. Quinn, Dr. Carlson, Dr. Talbert and Dr. Eubank; and, even today, called up ideas from Dr. Eubank's book. We concluded our transaction, and I smiled quietly to myself. He would never know what the campus was like in 1938-42, and I will never know what campus life is like in the 21st century.
I went to sleep walking the familiar paths of the campus. The faces of friends and professors paraded through my mind. I recalled sitting on the marble steps of the library, deep in conversation, puffing on a bummed cigarette, the late fall afternoon light coming through the windows of the Teachers' College auditorium, the trek from the streetcar to McMicken Hall on a cold, snowy day and suppers at the Chi Omega sorority house.
I thought of six Mortar Board members, in their black sweaters, sitting in the back row of the urban sociology class. I thought of cramming for exams, digging deeply in philosophical bull sessions, toting my black leather, zippered notebook holding notes from class and riding the streetcar from the campus back home for supper with my parents.
Extracurricular activities were important ways of learning, and I remembered serving as president of the campus YWCA and being a junior advisor leader. Recalling the heady experience of a gardenia corsage, the swish of an aqua chiffon dress and the thrill of "tripping the light fantastic" at a fraternity dance brought delightful memories.
I wouldn't change places with the young caller, for those years were rich in friendships and experiences that took me from being a teenager to being an adult. Yes, I'll send my check to the university. That is a small payback for four years of nourishment, learning and fun.
Margaret Grogg Pifer, A&S '42
Kalamazoo, Mich.
---
"Life in a Hitler Labor Camp"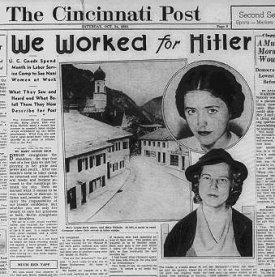 I was fascinated by the article "Life in a Hitler Labor Camp" since I am the daughter of Holocaust survivors. I am always interested in getting a different perspective on that time in history. Most of my childhood was spent hearing about my father's life in Auschwitz.
I have found it nauseating to read that some people loved Hitler. I took a trip to Auschwitz, as well as other camps, and to this day, I can't understand how anyone living near a concentration camp could ignore what was happening inside those camps.
Helen Klug Elfenbein, Ed '72, M (Ed) '96
Loveland, Ohio

The article on the two UC girls who worked in Germany pre-WWII did not ring true to me. I was shocked that two women would purposefully go to Germany to work in such a camp of which I had never before read. This is a new chapter for me in the pre-WWII story. Thank you.
Ray Vegso, D (Bus) '76, and wife, Sally
Marietta, Penn.

Your article on "Life in a Hitler Labor Camp" rang a bell for me. I was on the cheerleading squad for the 1942 football season (when cheerleaders were all male) and had also joined the Army Enlisted Reserves and ROTC. In May 1943, I was called to active duty.
We were in northern Germany, on our way east toward Kassel through picture-perfect farmland, when we saw what looked like German army barracks off in the distance. Capt. Nolan said, "Marmer, go check them out."
The last thing infantrymen want to do is advance in open fields. There are no gullies to dive in, no trees to duck behind. The German troops started firing and fought until they ran out of ammunition. Then they just left! We had accomplished our mission!
When we arrived, we didn't find "army barracks" but instead a slave labor camp using Russian prisoners of war to work the fields so German men could go fight. The SS guards had been given orders to kill all the Russian POWs, but two things went wrong for them: We got there too quickly, and they ran out of ammunition!
The POWs gave me this note before we moved out: "To the lieutenant of the American troops: Sir, On the first of May, you have made us — we who live like slaves since three years in the damned Nazi Germany — the greatest joy. All night we did not sleep to hear without pause the warm words of our native country. (They heard the Russians fighting their way west as we were fighting our way east. We just got there first!) We say many thanks to you, sir, and also to the American soldiers who liberated us from the Nazi Germany."
At a wedding party a year ago — at which my brother's youngest son married the daughter of a Russian family who had immigrated to Atlanta — I took the mic, and after all the toasts were given, I told the above story because a great many of the guests were also Russian families who had also immigrated to Atlanta.
A few minutes later, a man in his 50s came to my table, knelt and told me his father had been liberated from a German Slave Labor Camp by American troops. I almost cried and just wished it was "My No-Name Camp."
Saul Marmer, Bus '48
Cincinnati
---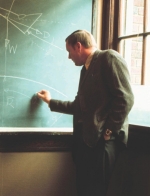 Armstrong memories strong
In May 1971, I was named News Record editor for my senior year. That fall, Neil Armstrong [HonDoc '82] became professor of engineering, and I got to interview him. He had just walked on the moon two years earlier, and he was the bomb.
Unfortunately, he was colder than the dark side of the moon (though I'm not really sure what the dark side of the moon is). He only wanted to talk about his professorship. He refused to talk about the moon, despite a globe of the moon sitting right there in his office.
No readers cared about engineering, of course. After 45 minutes, he eventually gave me enough nuggets to put into the lead. As professional as I wanted to be, however, I still asked for a picture of him and me together.
David Litt, A&S '72
Retired sales manager, USA Today
East Brunswick, N.J.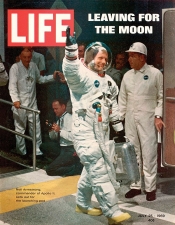 I very much enjoyed your article about Neil Armstrong. I graduated from the UC aerospace engineering and engineering mechanics department with three degrees (the first one in 1979), so I remember Professor Armstrong well. And I have two anecdotes for you.
One of the most special moments of our senior year, as we neared graduation, was when Professor Armstrong came in to chat with our class. I honestly don't remember the details of what he shared, but what I do remember is that, when one member of the graduating class, Greg Jarrells [Eng '79], asked Professor Armstrong to sign a stamp he had that the post office had issued to commemorate the moon landing, Professor Armstrong declined to do so, saying that if he did, that stamp would become very valuable, and he didn't feel it would be appropriate for him to sign it.
I know Greg was very disappointed, but I think it demonstrated the integrity and humility of Neil Armstrong.
Another moment, one I doubt you would want to publish, was a personal highlight, odd as it might sound. I recall standing next to Professor Armstrong in, of all places, the men's room nearest the aerospace department. I didn't say anything to him, since it was a bit awkward, as we stood shoulder to shoulder at the urinals. Nonetheless, I never got over my moment standing that close to the first man to step on the moon!
Mark Barnett, Eng '79, M (Eng) '82, D (Eng) '84
Senior executive consultant, RG Performance Group
West Bloomfield, Mich.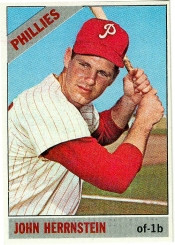 William Hines, Eng '59, M (A&S) '64, is an aerospace engineering alumnus who sent us a copy of this letter, which he received from his school friend John Herrnstein. They were both 1953-54 basketball and baseball teammates at Chillicothe High School. Herrnstein went to play football and baseball at the University of Michigan, and Hines came to UC and played baseball.
John Herrnstein's letter follows:
My father held dual degrees in aeronautical and mechanical engineering, and my brother was a metallurgical engineer, both graduating from the University of Michigan, as I also did. They both worked for NASA at Langley Field, Va., during the '60s, so I naturally had a very keen interest in our budding space program. I happened to be a professional baseball player with the Philadelphia Phillies at that same time.
When the Houston Astrodome officially opened for National League play in April 1965, we were the Astro's opponent in the inaugural game. Before the game, the 29 Mercury program astronauts were all honorees, preceded by an introduction of the original seven that had been chosen.
Naturally, I was transfixed. I remember being the only person in our dugout, as the rest of my team had not bothered to come out of the clubhouse.
As I was waiting for the ceremonies to begin, a wiry-built civilian came down into the dugout, approached me, sat down and we began talking. He explained that he was an astronaut in training, part of the second wave of newer astronauts, and was from a small town in Ohio, just as I also was. We exchanged pleasantries for 10 or 15 minutes before he decided he'd better rejoin the activities on the field.
Upon departing, he shook my hand and said, "By the way, my name is Neil Armstrong. What is yours?" I remember thinking to myself at the time, none of these astronauts are very big men, restricted in stature by capsule space and payload limitations, but huge in outright courage.
After our road trip ended, I told my wife, Barbara, about meeting one of the newer astronauts, how impressed I was over his humility and modesty and that he told me his name was Neil Armstrong. I asked her to help me remember his name — that I wanted to follow his career and any flights he might take! The rest is history!
Then in April 2010, I decided to write him a letter explaining that I totally forgot to tell him about both my dad and my brother working for NASA at Langley, and about my dad's close friendship with many of the test pilots back then. I even vainly asked if he remembered anything about the event of our chance meeting before the game.
I also included several items of "proof," in order to show that I was not misrepresenting myself in any way. Knowing his rather reclusive nature and understandable penchant for privacy, I never really expected a reply.
About two months later and much to my great surprise, I received a wonderful return letter in the mail. He thanked me for my letter and apologized for not responding sooner but explained he had been quite busy lobbying Congress for a larger NASA budget and the continuation of our manned space program.
Although now 80, he was still fighting for America to lead in space exploration. He remembered that the Phillies won the game that night but not much else about the evening, aside from how impressed he was with the Astrodome.
He also named some of the test pilots my dad probably knew and said who he had worked with at Langley, as well. Indeed, one was a very close personal friend of our family who was in our home on many occasions before we moved to Ohio.
Aside from being profoundly honored that he took the time to write me, it was also quite obvious to me that he had even researched me to some extent. He made mention of the fact that my family had an interesting history in University of Michigan athletics, which could only have come from the Internet.
He was obviously thorough and meticulously prepared in everything he did, even in responding to a letter over a chance meeting 45 years previous. Little wonder he was such an accomplished pilot, astronaut and explorer
Our meeting is my most cherished moment from professional baseball. It was not my first hit or my first homerun or any statistic about baseball. It was, however, getting to meet and having that isolated conversation with Neil Armstrong, before he ever made it into space or walked on the moon.
Looking at both the past and the future, I don't regard Christopher Columbus as having anything on Neil Armstrong. Few, if any, have made a greater contribution to our country, or to the world community, than he did. What a remarkable legacy he leaves us.

John Herrnstein
---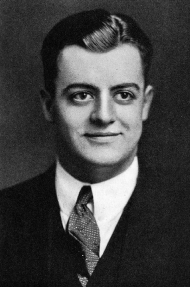 More on Jimmy Nippert
I enjoyed the story ["Naming Nippert," April 2013] on Jimmy Nippert [att. '23]. There are a few things I think you may want to clarify:
In 1923, the 11 men played both offense and defense. While we think of the center as an offensive position today, Jimmy probably played the entire game.
The 1923 game was Homecoming for UC. That was a new annual event. To date, I have only found two other previous Homecomings (football), those being in the years 1919 and 1921.
Coincidentally, in the same 1923 season on Oct. 6 at Carson Field, the University of Kentucky center Price McLean was injured (fractured skull) and died the next day.
The "star" of the game was UC's Bob Hynes [Eng '25], who scored three touchdowns — a huge feat then and today. Therefore Jimmy was most definitely a very obscure football warrior and contributor for the team, as are most lineman. Unsung heroes, if you ask me.
Jimmy actually quit football. His brother Louis was to be the center for the 1923 team. But things did not go well, and the team pleaded for Jimmy to return one more year. I could only imagine the grief that Louis Nippert [A&S '26, HonDoc '71] carried with him in losing his older brother who came back to play one more year of football because Louis was not able to play as a starter. Their father, Alfred [HonDoc '56], also played football for UC, but he tore his ACL in a slip on an icy sidewalk. That injury probably would not be career ending today.
I think Jimmy put a lot of pressure on himself to succeed to the highest effort he could make to support the university in football. I suspect he knew he had a significant injury but played through the pain due to the nature of the game in 1923.
The Miami game was considered the ultimate game for UC and Miami every year. There were no bowl games as we know it today, and professional football did not exist yet.
I think anyone who followed football within 100 miles of Cincinnati would have considered this game as important as we think of the NCAA national championships or the Super Bowl today. The rivalry was extremely intense.
UC had lost to Miami in the 1921 and 1922 games. This 1923 game would have been important to Jimmy and everyone at UC. The university's record for this match-up with Miami for the previous 10 seasons was 1 win, 8 losses and 1 tie.
Mark Fields, Eng '80
Franklin, Ohio
Editor's note: In a UC Libraries' exhibit about campus fraternities and sororities, the first Homecoming is dated June 1924. In later years, the event moved to the fall. If Mark has a date a year earlier, he may be on to something. Nationally, Baylor was the first university to celebrate Homecoming in 1909 with a parade, class reunions and a football game, considered traditional elements today.
---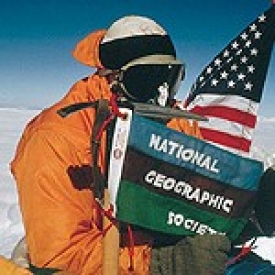 Barry Bishop online
Nice article about Barry Bishop [A&S '54, HonDoc '94, an alumnus who was on the first American team to scale Mount Everest]. Not sure if you know it, but I just happen to be one of the world's leading authorities on the glaciation of Mt. Everest. I have undertaken research on both the northern and southern sides of Everest, as well as many of the other 8,000-meter peaks including K2 and Nanga Parbat. The Himalaya and Tibet cover an area about a third of the size of the U.S., so there is plenty to work on. Nevertheless, it is a small world.
Lewis Owen
Geology professor, Department of Geology head
Mason, Ohio
Editor's note: We were unaware of professor Owen's research, so we called and talked to him briefly. Having undertaken research on glaciation in the Himalaya and Tibet for the last 25 years, he explained, "I am interested in reconstructing the extent of glaciers in the past and how they are likely to respond to climate change, i.e., retreat and disappear in the coming years." His doctoral work on the Karakoram Mountains in Northern Pakistan led him to this research.
---
Bob Deddens found
As I was reading the April 2013 issue, there was a letter from Craig Fitzpatrick, DAAP '70, regarding his RA Bob Deddens. I tried to contact Craig via Internet search but was unsuccessful. I have the data he's looking for so maybe you could connect it to him.
Bob Deddens [Eng '63, JD '67] lives in Dayton, Ohio (actually the city of Oakwood, which has a Dayton mailing address). He recently retired as a judge and has a private law practice there.
I used to coach Bob's twins in fifth- and sixth-grade basketball, and my nieces and nephews attended school with some of his eight kids.
Bill Kugel Bus '78
Dayton, Ohio

---
Prodigy Henry Meyer recalled
I am a former violin student of violinist Elizabeth Mason [att. CCM] who studied with Henry Meyer at UC in the 1950s. Recently, she shared her admiration for him, and I read his obituary in your [online] magazine.
I was struck by the formulation that he played in a "prisoners' orchestra" in one of the concentration camps. Such orchestras were not exercises in fine arts. My understanding is that they were forced to play as fellow inmates were marched to the gas chambers. I believe that Mr. Meyer was forced to play a percussion instrument as his brother was sent to die.
I'm an English teacher whose students always read about the Holocaust, and it consistently strikes me how they have to learn from scratch about that event and time in history. The ghoulishness of the concentration camp orchestra, forced to "accompany" work details and death marches, never fails to sicken me.
Elizabeth was a wonderful violin teacher when I later studied with her. She is no longer well. On one of my visits to her, she talked about Mr. Meyer with great reverence.
Joan Levitt
via email
Editor's note: We did a story on Henry Meyer once, and he said they played as prisoners went to and from work, and also for SS events at any time and place. He mentioned nothing about playing as men went to the gas chambers. It may well have happened, but we knew nothing about it.
---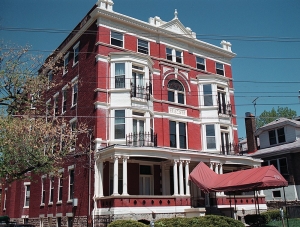 Ludlow vs. Logan Hall
A class of 1960 College of Nursing fellow graduate called to my attention an article in the April magazine. Details of life in the dorm on Ludlow Avenue brought smiles to our faces.
Those first residents were not the first students at UC to live a distance from campus. This letter is a request to give equal time to those of us who lived in Logan Hall and the Annex while we matriculated at UC. I noticed in the article that mention was made about dinner at Logan Hall for the Ludlow residents, and I believe that is a typo.
From the time we entered the College of Nursing in 1956 until graduation in 1960, we were required to reside at 3259 Elland Ave., located across Erkenbrecker Avenue from Children's Hospital. No bus was furnished for us to travel to the main UC campus for our classes located there. Walking to the main campus (few had a car) was true to the mail slogan, "Neither rain, snow or sleet"; we were there in all kinds of weather.
How many have walked from what is now University Hospital up the hill past Procter Hall and on to McMicken at least three times a week? These trips to campus were in addition to spending a lot of hours at Cincinnati General Hospital caring for patients on a 24-bed ward. Many times, we had to work split shifts in order to provide coverage for staffing the hospital.
All our meals were served in the dining room at Logan Hall, and we were not permitted to wear slacks to the dining room. We were well supervised with "matrons" and had to sign in and out and get special permission from a faculty member to stay out later than the curfew or to take an overnight to go home. The dean of the college lived on the second floor of Logan Hall in her suite. We, too, had one telephone per floor and shared bathrooms.
Evidently most of us did not realize we were being deprived of anything during those four years. I believe that most of my classmates would say that we are fortunate to have had the experience of living together for four calendar, not academic, years and formed a bond that lasts yet today, 50-plus years later. We keep in touch via an annual newsletter and have a gathering every two years. I am thankful for the education I received at the College of Nursing. It has served me well.
How about doing an article on Logan Hall and the Annex?
Sue Driver Lantzer, Nur '60
Madison, S.D.
Editor's note: UC Magazine never set out to do a story on Ludlow Hall. Readers kept sending me more and more information, until one day we sat down and combed through it all and started cross-referencing articles in the student newspaper. You're the first person to mention living in Logan Hall. If other readers send us their stories, too, maybe this will develop into a full story after a few issues.
---
Letters to the editor policy
Letters to the editor must relate to the university, be signed and include addresses, colleges and years of graduation, when applicable. The editor reserves the right to edit letters for length, clarity or factual accuracy and to reject letters of unsuitable content. Letters may not criticize other letter writers or insult the character of anyone else. Opinions expressed do not necessarily reflect the views of the University of Cincinnati.