Just for fun
Urban legends, Bearcat and UC history, trivia quiz, quotes, museums

Do ghosts really haunt Blegen Library and the Observatory? Is Langsam Library slowly sinking? Are the size of parking spaces on campus growing smaller? Find out these answers, plus many more.
---
View a pictoral history of UC Bearcat artwork and athletics logos from 1914 to 2005.
---
Stage and screen stars to soothe your soul
Sometimes a picture is worth a thousand sighs.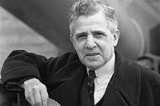 Quotations worth pondering from University of Cincinnati alumni who made a difference in the world.


Joseph Strauss
---
25 multiple-choice questions to rank your knowledge of the university (and likely to enlighten you at the same time)

---

A brief history of the University of Cincinnati from 1819 to today. Plus an explanation of the evolution (and demise) of a variety of colleges.
---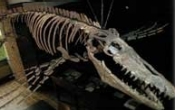 UC has many museum-caliber exhibits -- with only two drawbacks: Exhibits are spread over an entire campus, and admission often requires an appointment. The bonus? No lines and lots of personal attention.
► Mosasaur in geology's Durrell Museum. Photo/Dottie Stover
---
An alumnus composed "You're a Mean One, Mr. Grinch" as an audition piece to win the job of scoring the TV movie. Read how he did is and listen to an old tape of him singing the song.

---

Take this quiz, using the Social Readjustment Rating Scale, to measure the likelihood of stress-induced illness.
---