Building a better


Business School
The University of Cincinnati's Carl H. Lindner College of Business has long been a foundation of alumni success. Now it's set to start the foundation of a new facility positioning it among the best business schools in the nation.


Six years ago, David Szymanski was in search of a new challenge. The seasoned college administrator and marketing professor found it in the position of dean of the University of Cincinnati's Carl H. Lindner College of Business, which had sought a visionary leader who could take the fast-growing college to the next level.
"Part of the job description was about transformation," recalls Szymanski. "I asked interviewers, 'Are you sincere about that?' The answer was 'Yes.' I wanted the opportunity to be part of that vision and transformation."
And transformed it has. Since 2010, the Lindner College of Business has earned a number of national accolades and honors. Its MBA program earned the highest three-year rankings jump of any program in the nation in U.S. News & World Report, with CEO Magazine ranking the college's online MBA program one of the top 15 in North America. Last year, the college's undergraduate program climbed 16 spots in Bloomberg Businessweek to No. 84 in the country, and it ranks 41st among public schools.
Prospective students are increasingly taking note of the college's growing national reputation, relationships with top employers and ever-evolving lineup of new program offerings. In the last six years, undergraduate student enrollment swelled by 50 percent, with graduate level enrollment climbing by a whopping 200 percent.
That academic transformation will soon be matched by a dramatic physical transformation as UC breaks ground on a $120 million cutting-edge building to replace the college's aging Carl H. Lindner Hall. The 225,000-square-foot facility, set to open in the fall of 2019, represents one of the largest and most ambitious construction feats ever undertaken by the university and promises to firmly position the business school as one of the best in the nation, officials say.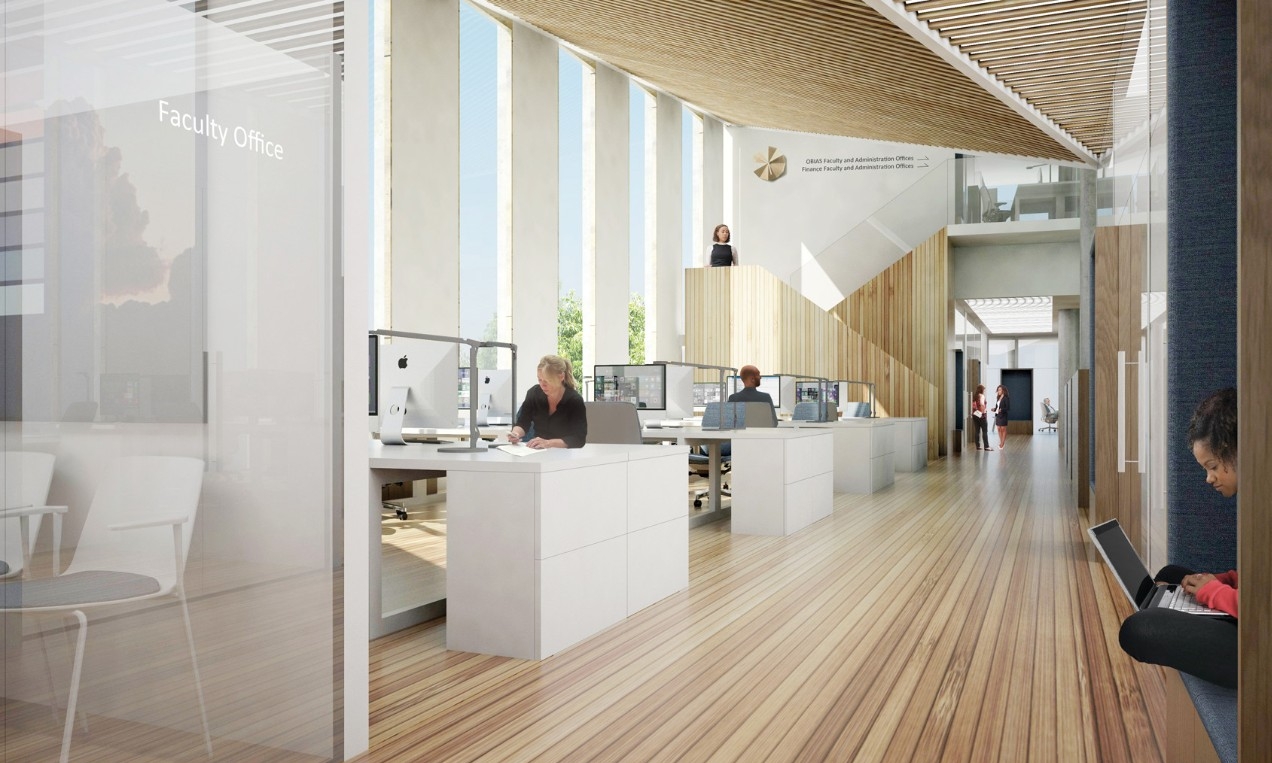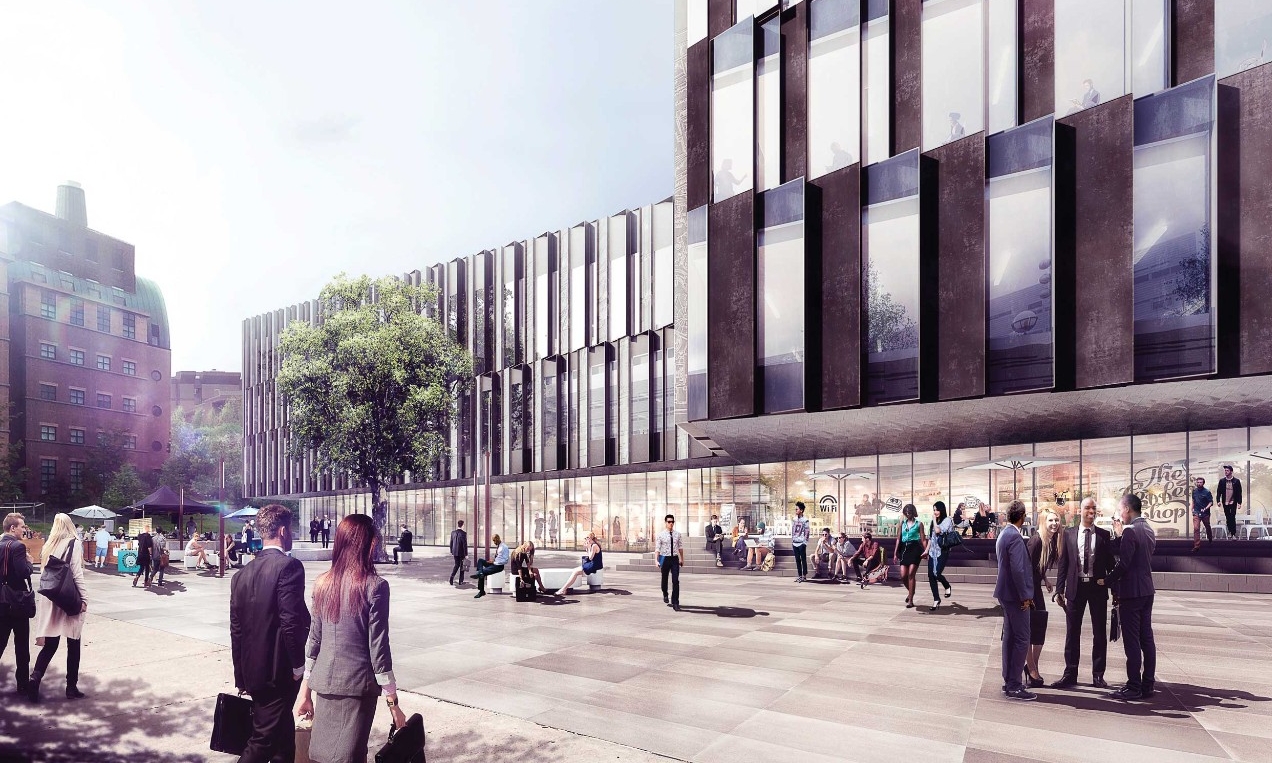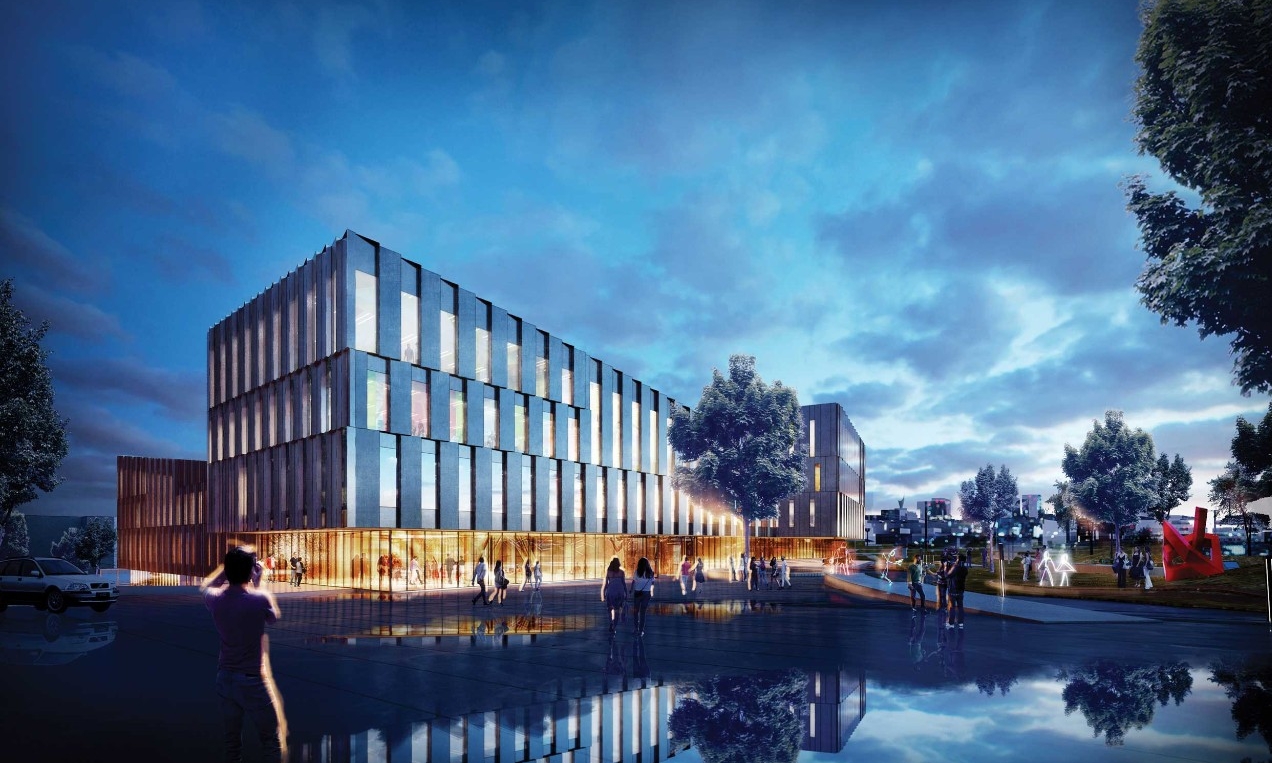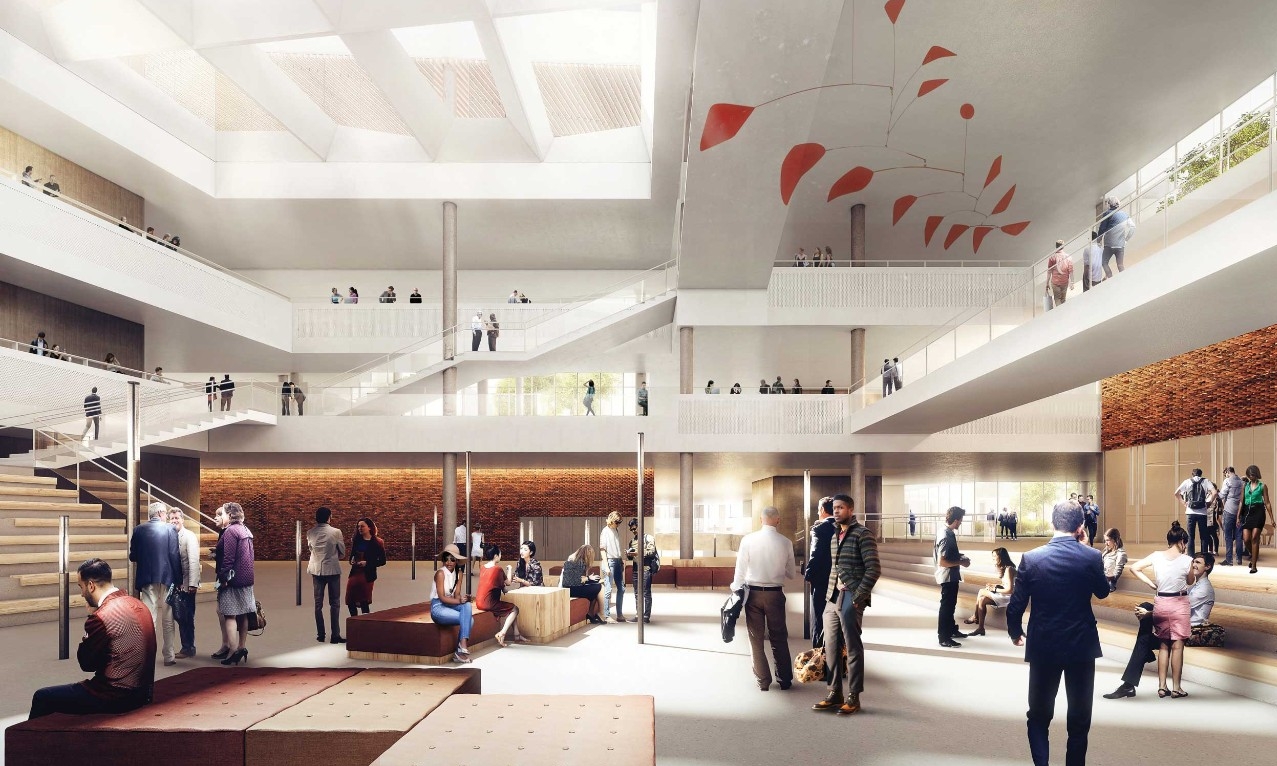 "Great students are coming here despite the facilities, and it's a testament to our faculty and staff in terms of the quality of our educational experience," says Szymanski. "A building that is state-of-the-art will create a different kind of excitement and will truly be inspiring. You walk into the building or see it from a distance and say, 'That's where I want to be.'"
On a campus recently celebrated by the New York Times Magazine for its impressive building designs by leading "starchitects," it's easy to overlook the college's current home, a nondescript brick building nestled in the shadow of the newly renovated Scioto and Morgens residence halls.
The six-story Lindner Hall, constructed in 1986 on a "shoestring budget" several years before UC embarked on an ambitious master plan to transform its campus, offers few amenities for students, says Mary Beth McGrew, UC architect and senior associate vice president of planning, design and construction. At 103,000 square feet, the building was designed to accommodate 1,800 students — a little more than one-third of the college's current enrollment of about 5,000 students. With space at a premium, the college has been forced to scatter 30 percent of its classes in a dozen buildings across campus.
"The current building doesn't do much to help the college blossom," says McGrew. "The pressure on this project was to get more space, but flexible space."
The new four-story building, designed by the internationally renowned Danish firm Henning Larsen Architects, more than doubles the college's footprint. Gone will be the college's current classroom format, featuring fixed seats arranged in a traditional tiered lecture hall format. The new classrooms offer mobile furnishings to allow for flexible arrangements better designed to facilitate student engagement, says Szymanski.
The expansive floor plan adds more than 160 new faculty office spaces, a 150-seat two-story lecture hall and 250-seat auditorium, research labs, exam and tutoring areas, huddle and breakout rooms and plenty of open workspaces. A large, light-filled atrium at the heart of the building doubles as both a welcoming lobby for students to linger and socialize and an expansive gathering space for large events and activities.
The facility's Scandinavian-inspired design is as functional as it is beautiful. Arranged in irregular-shaped quadrants that form a pinwheel, the building's layout maximizes energy performance and thermal comfort. Tall glazed glass panels allow daylight to reach deep into the building's niches, minimizing the need for artificial lighting and creating the best conditions in both instructional and office spaces. Two outdoor courtyards allow in plenty of natural light and will feature green surroundings, reminiscent of nearby Burnet Woods.
The project is designed to earn the Leadership in Energy and Environmental Design (LEED) Gold certification, a point-based rating system for evaluating new construction developed by the U.S. Green Building Council. Since 2004, UC has completed six LEED-certified buildings.
"The university wants a lot from its buildings: high performance, function, flexibility and spaces that inspire," explains McGrew. "First and foremost, we are an institution of higher education."
Construction is expected to begin in April on the facility, which will occupy the site of the Russell C. Myers Alumni Center and Faculty Club building. The Alumni Center will operate out of temporary offices before relocating along Calhoun Street, on the southern edge of UC's campus.
The new Lindner College of Business building promises not only to transform UC's physical campus, but to also change how students learn in the 21st century while advancing the region as a magnet for new business talent, success and innovation, says Szymanski. With the constraints of the college's current location loosened, the possibilities for growth, he says, are endless.
"We've gone from really good to excellent. Our goal is to focus on becoming preeminent," he says. "It's not easy to define; it's a constant striving for perfection that you never attain. Every day we hit the reset button: 'What do we need to do? How do we keep getting better?' We're constantly reinventing ourselves."
Best Value MBA
Program in the Nation
College Atlas
Online Master of
Science in Taxation
U.S. News & World Report
Online MBA
in North America
CEO Magazine
Data Analytics
Graduate Program
Information Week
Part-Time Public
MBA Program
Bloomberg Businessweek
Full-Time Public
MBA Program
Bloomberg Businessweek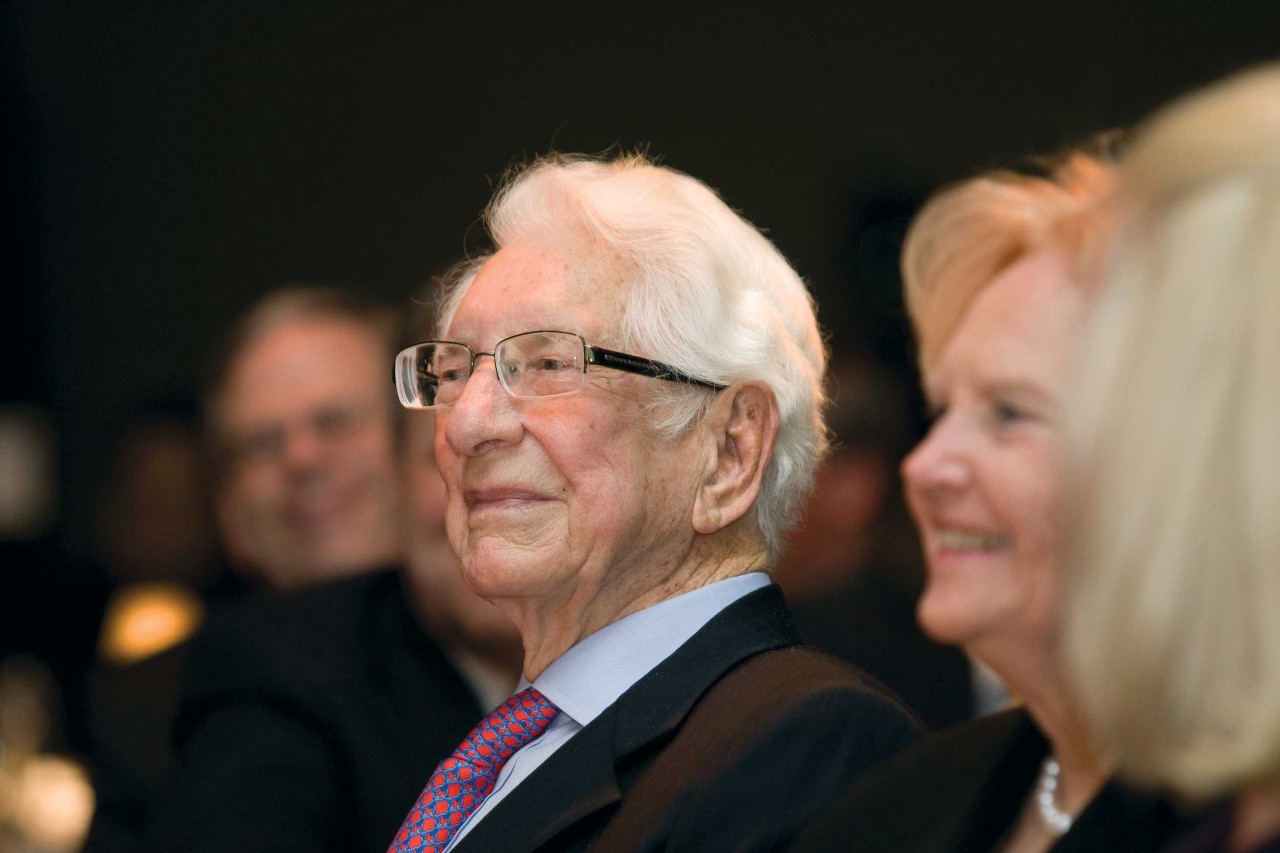 Celebrated entrepreneur and international businessman Carl H. Lindner Jr. had a vision of attracting the best and brightest students to Greater Cincinnati.
"My dream is to put UC's business college on the map as one of the finest in the nation," he once said.
With his generous support, the college established the Carl H. Lindner Award for Outstanding Business Achievement in 1985, followed a year later by the construction of Carl H. Lindner Hall. In 1997, the College of Business launched the Carl H. Lindner Honors-PLUS program, which was funded by an endowment from Lindner. And in 2011, UC renamed the college the Carl H. Lindner College of Business in honor of Lindner's legacy of entrepreneurship and excellence in business.
Lindner died in 2011, but his dream for UC continues. In 2016, the Lindner family, including wife Edyth Lindner, Carl III and Martha Lindner, Craig and Frances Lindner, and Keith and Courtney Lindner donated $6 million to a new facility for the College of Business.
Cincinnati-based holding firm American Financial Group, a company founded by Lindner and now operated by sons Carl III and Craig Lindner, donated an additional $5 million to the project.
The $11 million donation marks the largest gift in the college's 110-year history.
"My family gives this gift out of love for our father, Carl H. Lindner Jr., the trajectory of the University of Cincinnati and our longstanding relationship with UC," says Carl H. Lindner III.
"We are excited about the tremendous success of the Carl H. Lindner College of Business and are proud to support fundraising efforts for the innovative new building that continues our father's legacy," says Craig Lindner.
A $5 million gift from Timothy Johnson, founder of Cincinnati-based Johnson Investment Counsel, will establish a named institute and interactive lab within the new building, including a simulated trading floor.
Fundraising for the $120 million building has been underway since August 2015, and more than $20 million has been raised for the project.

Rachel Richardson

Rachel is a public information officer with the University of Cincinnati and a contributor to UC Magazine. As a former multimedia journalist and two-time alumna of UC's McMicken College of Arts & Sciences, Rachel is thrilled to have the opportunity to share the stories of UC's amazing community of faculty, staff, alumni and students. Rachel.Richardson@uc.edu
UC law professor and co-founder of the Ohio Innocence Project reflects on 24 wrongly convicted individuals.
UC student team tests finalist prototype at Elon Musk's worldwide Hyperloop competition.
ArtWorks and UC have enriched Cincinnati's cultural landscape with public art for more than two decades.
How a former Bearcat overcame a brush with death, got drafted by the Reds and turned a school bus into a home.
UC doctor leads trial of marijuana-based prescription drug showing real promise for epilepsy patients.