How a former Bearcat overcame a brush with death, got drafted by the Reds, turned a school bus into a tiny home — and just keeps moving.

One might not expect a 6-foot-8 man to fit comfortably in a school bus, much less live in one. But Dan Jensen's path has been anything but expected.
The University of Cincinnati grad has worn many hats in his 27 years. He was a pitcher for the Bearcats baseball team who went on to get drafted by the Cincinnati Reds in 2011. He then became a chef at a popular Findlay Market eatery and worked behind the scenes launching an urban grocery in Cincinnati's Over-the-Rhine. Today, he lives in a school bus he converted into a liveable home-on-wheels with his partner, Ashley Hunt, as they set out to travel the country.
Jensen's story started simply enough. He grew up north of Cincinnati and played baseball at Centerville High School. He was a talented pitcher by his senior year, but didn't manage to score any scholarships, preventing him from attending area universities. He enrolled at Sinclair Community College after receiving a late offer to play for their team, but the summer before his freshman year, complications from a tonsillectomy threw him off track — and almost took his life.
On Aug. 17, 2007, Jensen had his tonsils removed. During the procedure, the doctor nicked his carotid artery. Over the next month, he bled out on two separate occasions — both resulting in 75 percent blood loss — and eventually had to undergo another surgery to tie off the artery. He ended up losing nearly 60 pounds.
"I was going to Sinclair at the time, and my parents had to go to class for me for the first two weeks because physically I wasn't able to walk for that long," Jensen says. "I couldn't take a shower. I couldn't stand for that long, I'd get too weak. I was pretty broken down after that."
Falling back to square one, Jensen needed to work harder than ever before. But he says the ordeal helped him develop a strong work ethic and unlock his potential as an athlete.
"At the time it was pretty terrible, but I think ultimately it ended up being kind of a blessing in disguise," Jensen says. "I realized what hard work could actually do for me."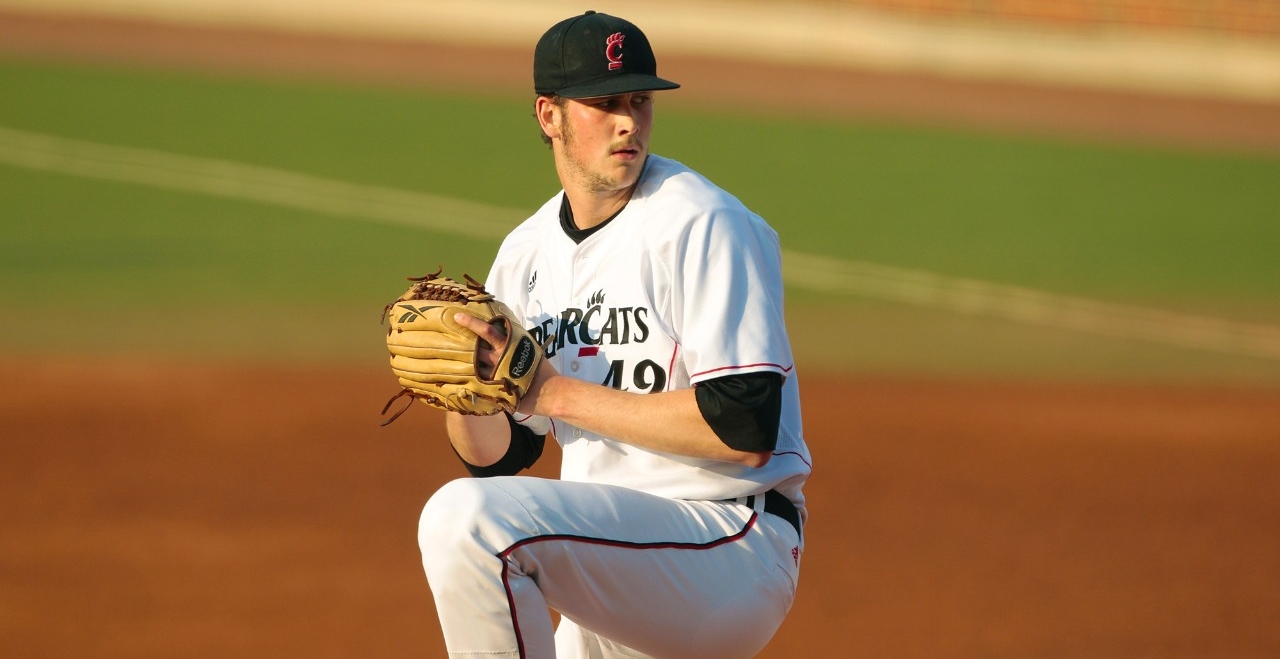 In the year that followed, he not only gained the strength to return to normal life, but he was able to play baseball. After garnering attention from Brian Cleary, then-head coach of the Bearcats baseball team, Jensen earned a scholarship to UC, where he majored in environmental studies in the College of Arts and Sciences and became a star pitcher. By his senior year, he led the team with a 3.11 earned run average and 79 strikeouts.
After pitching for the Bearcats for three years, Jensen received a phone call most ballplayers in southwest Ohio and beyond only dream of. He was selected by the Cincinnati Reds in the 2011 MLB first-year player draft.
He moved to Montana, where he played for the Billings Mustangs, the Pioneer League rookie affiliate of the Reds. When Jensen speaks about his years playing professional baseball, he talks about his travels and meeting new people.
"I got to see a part of the country I fell in love with and some interesting people," he says. "Ultimately, just to keep playing a little kid's game and get a paycheck for it was pretty nice."
He went on to play for the Bakersfield Blaze (another Reds minor league affiliate at the time), the Dayton Dragons and the Florence Freedom. But as the 2013 season came to a close, Jensen's body was feeling the effects of playing a professional sport.
"I started to have aches and pains, and it just wasn't the same anymore," he says. "So I retired from baseball at that point. I learned a lot about myself, about the world, about other people."
Starting his next chapter in life, Jensen explored another interest: food.
He'd always loved cooking, so back in Cincinnati he started working at various area restaurants, gaining an appreciation of local produce and quality ingredients, until he eventually ended up at Findlay Market's Fresh Table. He even helped the merchant with an upcoming venture, the Epicurean Mercantile Co., a full-service neighborhood grocery to complement Findlay Market, expected to open in Over-the-Rhine this spring.
But travel called Jensen's name once again.
Dan Jensen has embraced a nomadic lifestyle, which he shares with partner Ashley Hunter and their dog, Nihla.
"Playing baseball, I pretty much lived out of a suitcase for eight months of the year and just moved around," he says. "I just really fell in love with traveling and not really growing roots in one particular place."
Initially, he envisioned outfitting a van with all his basic needs. But when he met his partner, Ashley Hunt — who shared the dream of nomadic living — it became clear they needed something a little more substantial. A space with room for not only Hunt and the towering Jensen, but their sizable Alaskan malamute, Nihla, too.
Enter "Margaritaville." Not the Jimmy Buffett song, but rather the name of a school-bus-turned-mobile-tattoo-shop they found online. Virtually empty inside (no seats to remove) and painted with purple flames, the bus was a blank slate for Jensen and Hunt to create their new home.
And believe it or not, they were able to convert the gutted bus into a beautiful studio apartment on wheels in just six months, complete with a queen-sized bed, composting toilet, refrigerator, wood-burning stove and a surprising amount of storage. They installed solar panels on the roof. (And painted over the Margaritaville moniker and flames that once emblazoned the bus.)
"I'm never going to have to plug in and use power company energy anymore," Jensen says, "and that's kind of liberating — to never have to pay rent or a power bill ever again. And just having that much more of a connection to the land where we're living, because you're not removed by a house, you're living in your environment — that's pretty neat."
"I'm never going to have to plug in and use power company energy anymore, and that's kind of liberating — to never have to pay rent or a power bill ever again."
Today, Jensen, Hunt and Nihla call Red River Gorge, Kentucky, home, where they enjoy rock climbing and help run a desktop carbon fiber filament winding company (think 3D printers that use carbon fiber). But that home can change with a start of the engine. They plan to head out west in the near future.
"I went into UC with what I can now see as a narrow focus on the world in general," Jensen says. "I would say that UC definitely opened my eyes to the possibilities of alternative lifestyles that are now becoming a little bit more mainstream and accessible."

Jac Kern is a public information officer with the University of Cincinnati and a contributor to UC Magazine.
UC law professor and co-founder of the Ohio Innocence Project reflects on 24 wrongly convicted individuals.
UC student team tests finalist prototype at Elon Musk's worldwide Hyperloop competition.
ArtWorks and UC have enriched Cincinnati's cultural landscape with public art for more than two decades.
How a former Bearcat overcame a brush with death, got drafted by the Reds and turned a school bus into a home.
UC doctor leads trial of marijuana-based prescription drug showing real promise for epilepsy patients.