Cedric Cox, DAAP '99, is an ArtWorks artist who paints public murals around the city. photo/Joseph Fuqua II
After more than two decades, ArtWorks and UC continue to enrich Cincinnati's cultural landscape through public art.

Art has brought many things into Charles Winston's life — direction, a career and, perhaps more importantly, a chance at painting his way to success.
The young man's calm, confident demeanor never hints at a past of adversity. Yet, just a few years before he became a University of Cincinnati student, Winston had dropped out of high school, seemingly with no chance to ever pursue a college education.
Life was difficult at the time. Due to Winston's mother's mental illness, his father raised him on his own. Then his father lost his job and could no longer afford to send Winston to school.
But Winston, now a College of Design, Architecture, Art, and Planning freshman at UC, persevered. After he enrolled in a credit recovery high school, an art teacher introduced him to ArtWorks — the arts organization that would change his life.
ArtWorks, a Cincinnati-based nonprofit dedicated to transforming people and places through investments and creativity, has garnered attention over the past 21 years for bringing more than 100 public murals to Cincinnati's downtown and Over-the-Rhine, as well as dozens of area neighborhoods and cities. ArtWorks murals have converted more than 150,000 square feet of blank, and often previously neglected, building walls into a citywide gallery of paintings that celebrate Cincinnati's cherished history.
"Everything we do centers around people and places," says Tamara Harkavy, ArtWorks' CEO and artistic director. "Without the incredible creative talent and the trust from neighborhoods to touch its walls, its streets and its people, we wouldn't be in existence."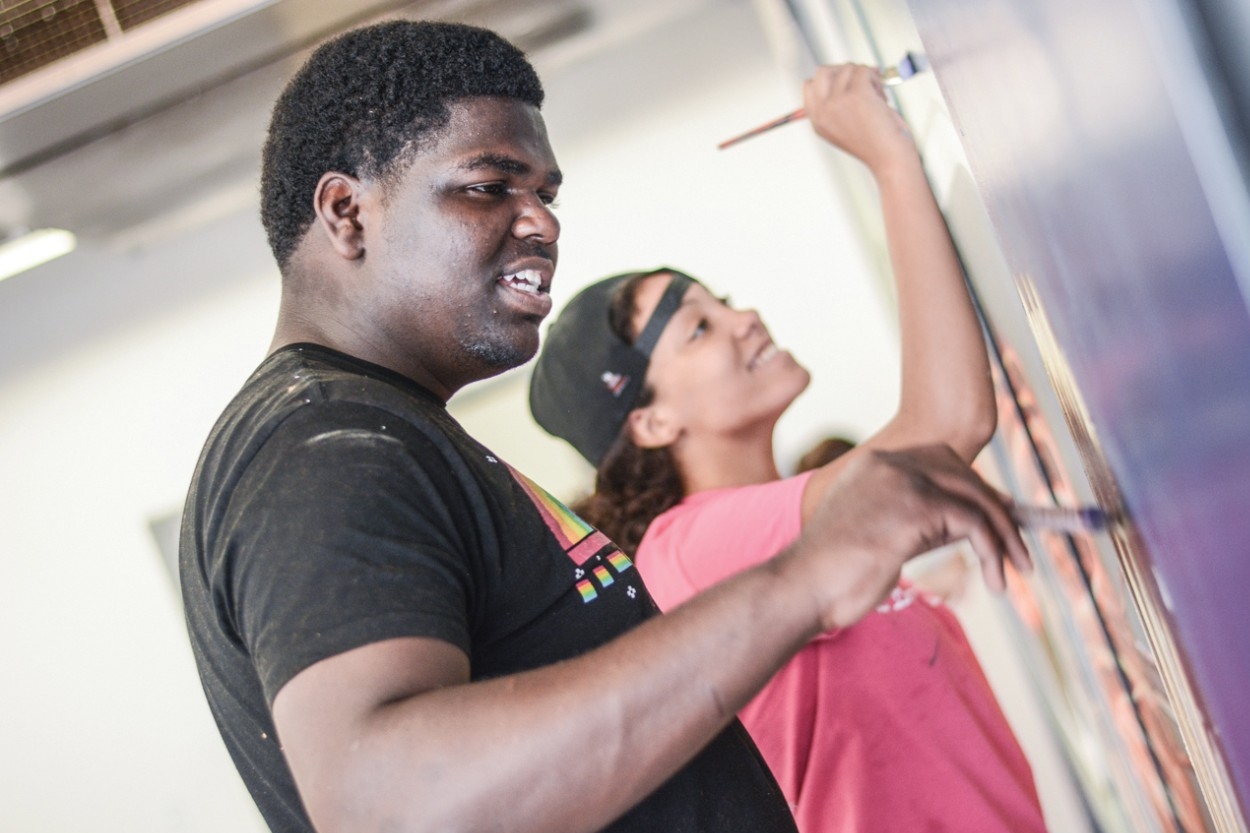 "Hearing them say they wanted to go to college made me want to go, too."

— Charles Winston, former ArtWorks apprentice and current DAAP student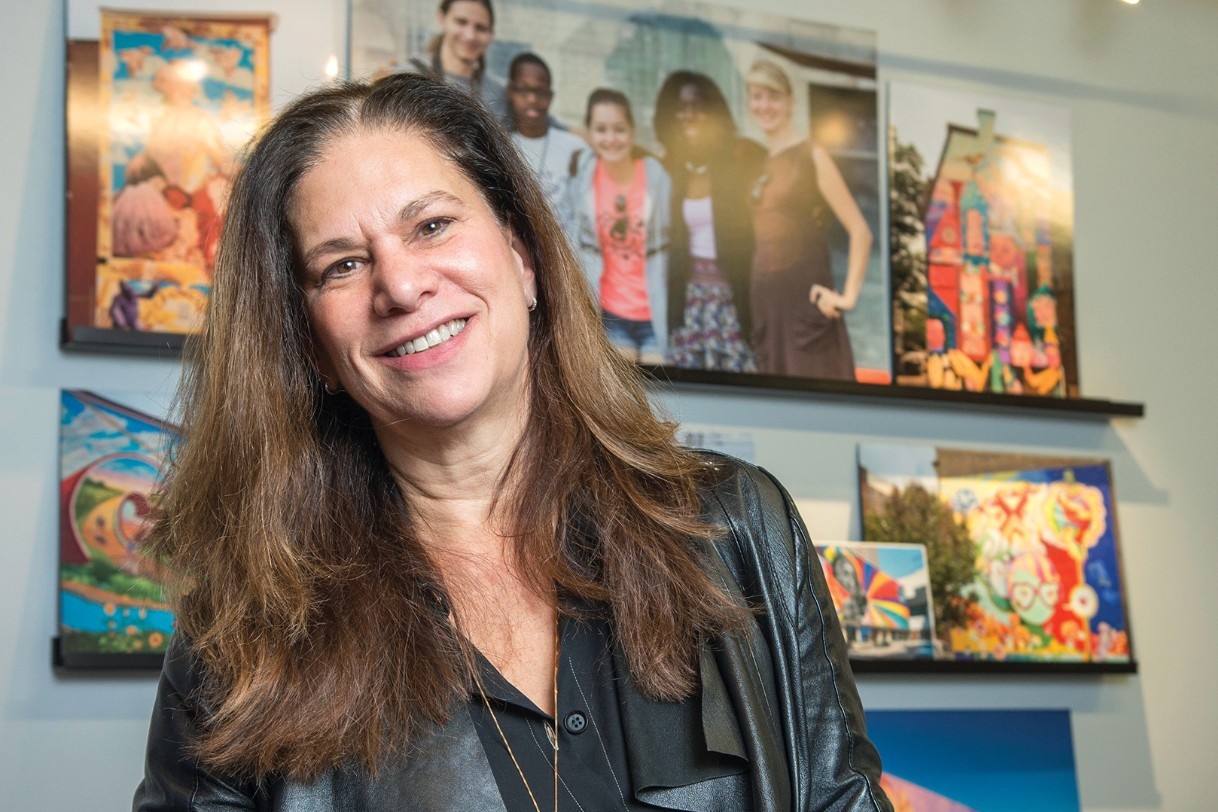 "I have seen kids work on our murals that weren't doing well in school, who were sparked in some magnificent way, graduated and are now in college."
— Tamara Harkavy, DAAP '94, ArtWorks' CEO and artistic director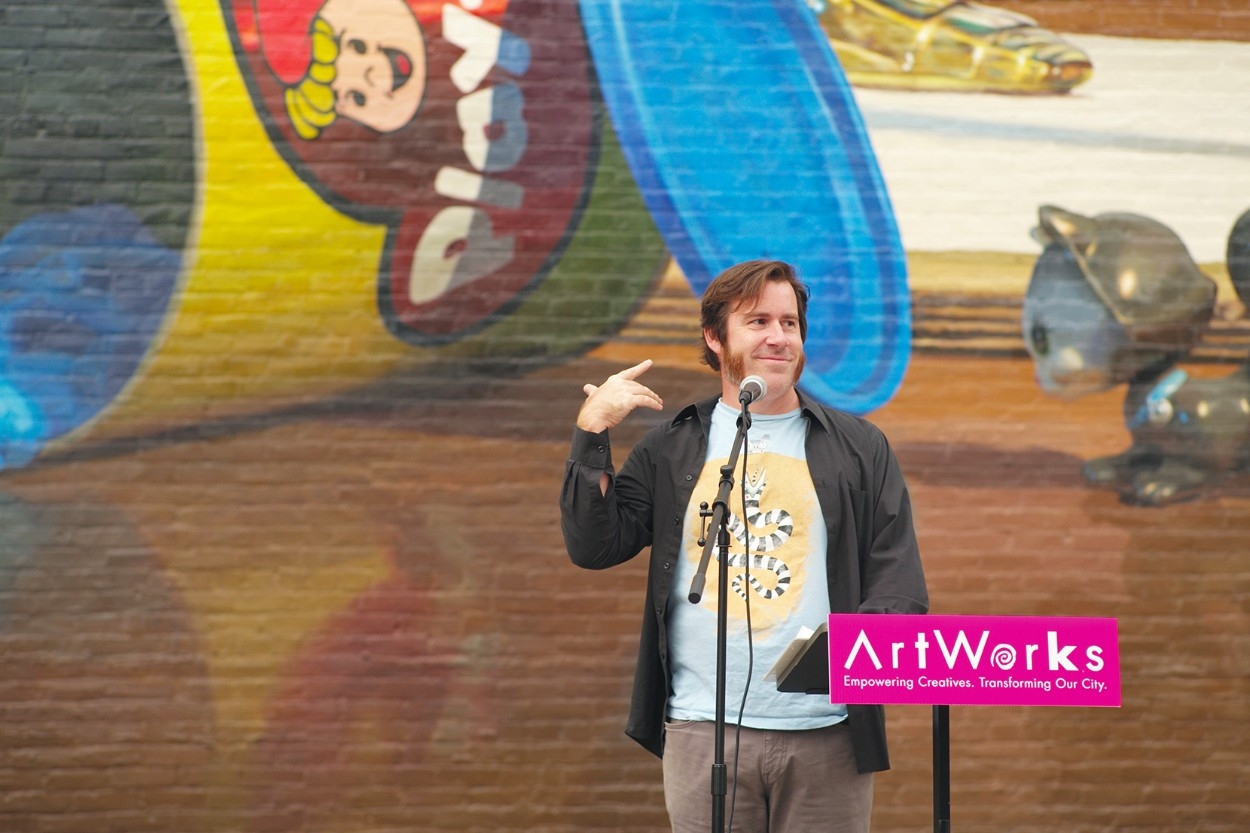 "I hope it is a draw for people to explore the city."

— Jonathan Queen, DAAP '01
Queen speaks at the dedication of his mural, "Cincinnati Toy Heritage."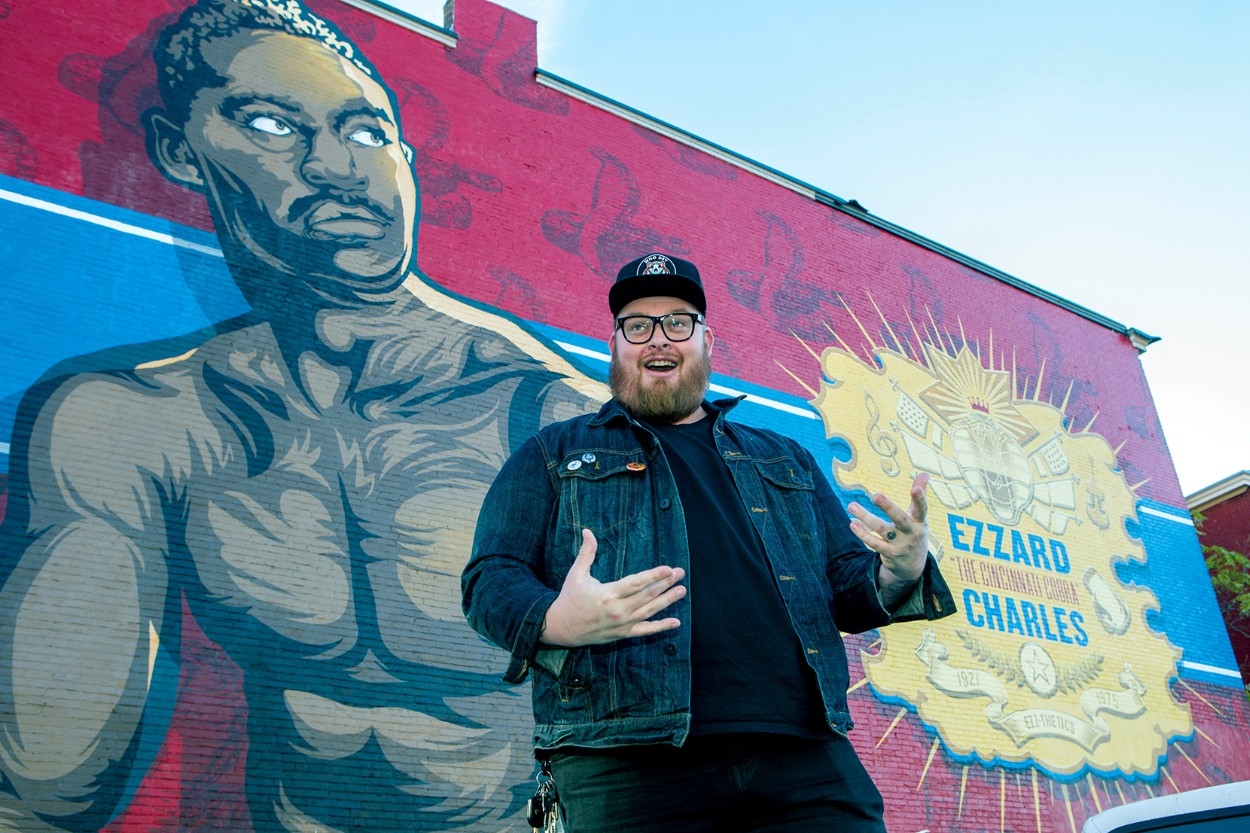 "For me it is more than just an arts organization. To me it's culture, it's family, it's putting Cincinnati on the map in terms of encouraging youth artists."
— Jason Snell, DAAP '01
Snell with the Ezzard Charles mural he designed for ArtWorks.
Harkavy, who graduated from the University of Cincinnati with a master's degree in urban planning and a dream in 1994, says ArtWorks was born out of a trip she and about 20 city, business and nonprofit leaders took to visit Chicago's Gallery 37, an employment program that engaged unemployed youth and addressed the need to create jobs for teens. The program also aimed to activate abandoned city blocks.
"Instead of 'make-work' and flipping burgers, these kids that were hired in Chicago were given an opportunity to develop skills that would set them up for the future, open their eyes to diversity and teach them life skills that may become a career path," she says.
The success of Gallery 37 in Chicago inspired the creation of ArtWorks in Cincinnati. In its first year, ArtWorks, then part of the Cincinnati Youth Collaborative, had less than $200,000 in its budget to employ 80 young apprentices and 25 artists, put up a few tents and start creating art that would impact the community.
At those beginning stages, UC was one of ArtWorks' first partners, giving the organization a $50,000 grant to launch its programs, Harkavy says.
"We were this great social experiment, because our kids were coming from all over the Tristate region down to a place that [at the time] was scary," she says.
Since then, ArtWorks has revitalized areas of the city by employing more than 3,000 teenage apprentices — many from impoverished backgrounds — and hundreds of local artists who have created countless public works of art.
"I have seen this neighborhood go from what it was, through riots, to this great renaissance," Harkavy says. "I have seen kids work on our murals that weren't doing well in school, who were sparked in some magnificent way, graduated and are now in college."
Enter Charles Winston. After going through the competitive application process to become an apprentice for ArtWorks, he started working with the organization's Hero Design Company to conceptualize and sew superhero capes for children in distress or experiencing a major
illness.
During his time as an apprentice, Winston also worked on Duke Energy's electric substation mural. Along with several other apprentices and professional artists, he sketched and painted the six 10-foot antique lightbulbs that now can be seen along Cincinnati's Central Parkway.
Interacting with so many different people was an enriching experience for Winston. "It was very different because I came from a credit school," he says. "Sometimes I felt like I couldn't fit in, but as the project started going I felt like we had a lot in common."
Now as a first-year student at UC's DAAP, Harkavy's alma mater, Winston says ArtWorks helped him build the confidence, skills and desire to go to college.
"I heard all of my co-workers talking about what they were planning to do," Winston says. "Hearing them say they wanted to go to college made me want to go, too."
It is adding to the neighborhood, adding a creative spirit, brightening up neighborhoods. It is celebrating its culture and history, which creates a level of pride for the residents and respect for the history of the community."
For Jenny Ustick, an assistant professor and foundations coordinator at DAAP, the partnership and collaboration between UC and ArtWorks is extremely important.
"It sends a message to anyone participating that an institution like the University of Cincinnati takes what you do seriously and is willing to contribute significantly so that your projects can be successful, and you can be acknowledged," she says.
Ustick, who graduated from DAAP with a master's degree in fine arts in 2005, has worked on more ArtWorks murals than any other artist. Having participated in over 10 projects, she is one of many UC grads with impressive pieces in her portfolio.
Throughout the years, Ustick has seen several of her apprentices go on to become DAAP students. The program teaches them the value of collaboration, she says, but apprentices are not the only ones learning throughout the creative process.
Working with ArtWorks made her realize "that some students have not had a lot of opportunity to develop artistic skills," Ustick says. "It's heartening to see that even without close technical guidance, the desire to learn trumps the lack of experience."
Whenever she sees something she has worked on for ArtWorks, her heart swells with pride, Ustick says. She often smiles, thinking about that time and all of the friends she has made.
Winston has a more philosophical view.
He is happy for his difficult past. "If I could turn back time, I wouldn't, because I feel like going through all the things I went through is what got me here."
Fernanda Crescente wrote this article as a senior journalism student and writing intern with UC Magazine.
UC law professor and co-founder of the Ohio Innocence Project reflects on 24 wrongly convicted individuals.
UC student team tests finalist prototype at Elon Musk's worldwide Hyperloop competition.
ArtWorks and UC have enriched Cincinnati's cultural landscape with public art for more than two decades.
How a former Bearcat overcame a brush with death, got drafted by the Reds and turned a school bus into a home.
UC doctor leads trial of marijuana-based prescription drug showing real promise for epilepsy patients.