Down the Drive
Just as the band uses Down the Drive to travel into the heart of campus, UC Magazine's Down the Drive section takes you to the heart of what's happening at UC.
Ella Morton darts to the front of the room during a UC Board of Trustees meeting and begins waving to the crowd. The bubbly 3-year-old lacks most of her left hand due to a birth defect, but she's found new abilities thanks to a prosthetic hand created by EnableUC. She can now grip a ball, hold a bat and even shake hands simply by bending her wrist.

EnableUC designs and provides affordable 3-D printed prosthetic devices for those in need and has printed 46 similar prosthetics in the last 18 months. Ella's mom, Heather Morton, herself a mechanical engineer, was searching online when she discovered the student group that ultimately made an enormous impact on their family.

Similar meaningful engagements with the community are commonplace for the university, and a new study now measures not only how often these occur but also the value of such interactions.

So, just how engaged is UC with the people and neighborhoods that surround campus?

A pilot study by UC's Economics Center found that students, staff and faculty annually contribute the equivalent of $8.5 million in time, talent and philanthropic donations to the local, regional and global communities.
With many campus-wide community service efforts and countless volunteer student organizations, the University of Cincinnati has a long history of giving back. And the range of activities is as diverse as the campus: writing workshops for veterans, free health screenings, children's dental care, theater projects, sustainability efforts, legal clinics, sports programs and many more.

UC Blue Ash College is marking its 50th anniversary this fall with a variety of special events and celebrations. The University of Cincinnati established the college (formerly Raymond Walters College) as a result of the federal Higher Education Act that became law in 1965. The legislation helped increase access to higher education for low- and middle-income students by strengthening the educational resources for colleges and universities. In Ohio, those resources were invested into existing public universities to create regional colleges that are open access and offer low tuition.

UC Blue Ash officially opened with its first classes on Sept. 25, 1967. There were 632 students on that first day. Today, UC Blue Ash is the largest regional college in Ohio with an enrollment of just under 5,000 students. It offers an authentic UC education with nearly 50 academic programs, including bachelor's degrees and countless opportunities for students to grow, both inside and outside the classroom.

Join UC Blue Ash for its 50th anniversary gala — Thursday, Sept. 28. Festivities include a cocktail reception in the new Progress Hall and a dinner on campus.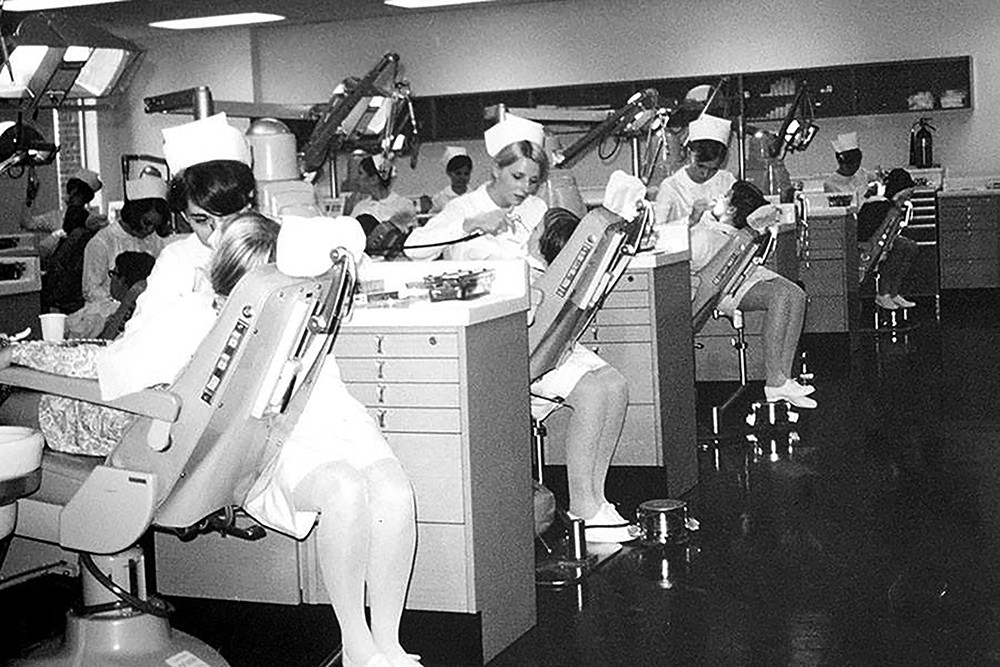 1967 UC's Raymond Walters General and Technical College officially opens with its first classes on Sept. 25. The land for the campus was originally designated for an airport but was purchased by UC from the city of Cincinnati.
1969 The Student Union is constructed to provide space for students to eat, drink, play pool and relax between classes. Today, it is called the Flory Center and is used for classrooms and faculty offices.
1976 Expansion of the first building on campus, known today as Muntz Hall, is completed.
1990 Ernest Muntz retires after serving 21 years as dean of UC Blue Ash, the longest tenure of any dean at the college.
1997 The UC Blue Ash Study Abroad Program launches with its inaugural trip to the United Kingdom. The program has expanded dramatically since then and marks its 20th anniversary this year.
1999 The Science and Allied Health Building is dedicated. It provides classrooms, laboratories and office space for a variety of health care and science programs.
2010 Cady Short-Thompson becomes dean of UC Blue Ash and begins a transformation that includes growth in academic programs, enrollment and campus expansion.
Enrollment for the college tops 5,000 students for the first time. UC Blue Ash continues to be the largest regional college in Ohio.
2011 The UC Board of Trustees approves changing the name from Raymond Walters to UC Blue Ash College.
2012 The Science and Allied Health Building is formally renamed Walters Hall in honor of Raymond Walters. He was the longest-tenured president in UC's history (1932 – 55).
2017 Progress Hall is completed. The newest building on the UC Blue Ash campus includes 16,000 square feet and provides much-needed space for classrooms and faculty offices.
Robin Lightner was named interim dean as Short-Thompson left in the summer to become provost at Hope College.
The University of Cincinnati and UC Health broke ground in May on a brand-new $60 million building for the UC Gardner Neuroscience Institute that will serve as home for innovative neurologic and psychiatric care when it opens in spring 2019.

The new 113,000-square-foot clinical outpatient facility, designed by Perkins+Will, will stand four stories tall at Eden Avenue and Martin Luther King Drive on the UC Medical Campus.

The institute has been functioning as a unit across at least 12 different offices throughout the medical campus. This new building represents a convergence of all the various disciplines together in one space.
"The UC Gardner Neuroscience Institute building will be tailored to our patients' unique needs," says Dr. Joseph Broderick, director of the institute. "Functionality and innovation will align, giving our patients the best care possible."

The facility is made possible in part thanks to the James J. and Joan A. Gardner Family Foundation's donation of a transformative $14 million gift, the largest in the history of the neuroscience institute.

For more than 30 years, UC has been at the forefront of neurologic care. UC Health physicians helped discover the only FDA-approved medical treatment for ischemic (nonhemorrhagic) strokes and were the first to receive FDA approval to vaporize inoperable brain tumors with a YAG laser. Today, the UC Gardner Neuroscience Institute is made up of more than 125 physicians and researchers leading national organizations devoted to research and treatment of headaches, Parkinson's and epilepsy, developing nationwide standards of care.
Astronomers discover new planets all the time — NASA has a tally of more than 2,300.

But to identify and capture the image of a planet outside our solar system is rare, and that's exactly what UC grad Kevin Wagner accomplished, and, no less, by the age of 23.

A graduate of the McMicken College of Arts and Sciences, Wagner was the lead researcher for an international team last year that discovered and photographed a planet known as HD 131399Ab, named for its solar system. What they found was a planet composed entirely of gas with three suns.

The planet is bathed in constant light for one-third of its solar year — or about 140 Earth years. For much of that time, the planet has a traditional sunrise and sunset, albeit repeated three times per day.

The planet's multiple suns prompted comparisons to the iconic twin sunsets of Tatooine depicted in "Star Wars."

The discovery became international news, reported in hundreds of media outlets including Nature, National Geographic, CNN and The New York Times.

Wagner now calls the planet "Scorpion-1b" after the Scorpius-Centaurus Association of stars his team examined in their planetary survey from the European

Southern Observatory's Very Large Telescope in Chile, where he returned this year to resume his intermittent long-distance relationship with his new world.

He revisited UC in April to give a talk on his findings to some of his former physics classmates and professors.
"We really haven't had an opportunity to study a world like this before," he said.

Wagner has always been interested in the night sky. But it was only as a high school student that he realized he could turn that curiosity into a career.

"At the time I was watching Carl Sagan's 'Cosmos' series and realized that astronomer and astrophysicist were actual jobs one could have," he said. "I applied for the astrophysics program at UC and never thought about doing anything else."
What we know about Scorpion - 1b

IT'S HUGE: Four times bigger than Jupiter, the largest planet in our solar system, or about 1,300 times bigger than Earth.
IT'S HOT: The atmosphere is 1,070° Fahrenheit.
IT'S YOUNG: It formed just 16 million years ago compared to Earth, which is approximately 4.5 billion years old.
IT'S FAR: About 28 billion miles away from the closest of its three suns. Our sun is just 93 million miles away.
Autopilot

While self-driving vehicles are already being tested on the road today, it will be a few years before most of us can take a spin in fully driverless cars. But that's not stopping industrial designers in the College of Design, Architecture, Art, and Planning from developing tomorrow's transportation.

These students — who have worked with Mercedes-Benz, Volkswagen, General Motors and many other major car companies via co-ops, internships and sponsored studios — are designing for a world where self-driving cars act as mobile offices, where ride-sharing vehicles are delivered autonomously and where windshields transform into various visual screens.

One tool students use to visualize these futuristic digital concepts is virtual reality headsets. Instead of examining two-dimensional illustrations, they can strap on a headset and see a 360-degree, proportional design. The transportation design studio in DAAP's Myron E. Ullman, Jr. School of Design has an actual car seat for students to sit in to experience the feel while seeing a car's interior virtually.

Virtual reality is not just used in the design process. According to students, VR glasses and contacts will be a necessary tool for self-driving cars to come to life for users, allowing them to interact with the vehicle and change settings.

Just imagine: Instead of staring at bumperto-bumper traffic on your evening commute, you can catch up on the latest episode of your favorite TV show.
Meanwhile, in the College of Engineering and Applied Science, UC has invested in a scientific instrument to give researchers a closer look at everything from industrial samples to nanowire a thousand times smaller than a human hair. UC's $1.4 million dual-beam scanning electron microscope has become an all-purpose tool for students, researchers and even private industry to study problems up close.


Under such intense magnification, grains of pollen suddenly become scaled dragon's eggs while spiders take on the proportions of movie- screen monsters.

It's a tool with universal appeal for engineers and chemists, biologists and physicists — even artists.

The microscope also gets a lot of attention from Cincinnati-area industry. UC leases out the microscope to businesses that want a closer look at parts or products.

Dual-beam microscopes have the added ability to fire gallium ions at a sample to create a cross section or etch away layers of material such as tissue or metal. The lab used this tool to carve UC's logo into a grain of salt as a demonstration.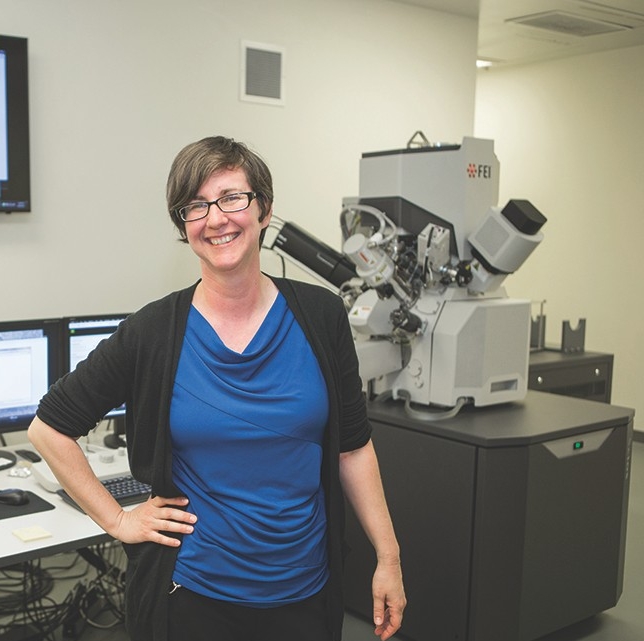 If you were ever a fan of '90s animated musicals, you'll likely remember the 1997 movie "Anastasia." One of many adaptations of the legend of Grand Duchess Anastasia Nikolaevna of Russia, the movie follows a young woman named Anya, an amnesiac orphan in search of family, unaware that she is the missing princess Anastasia.

The film's songs and score were developed by Stephen Flaherty, CCM '82. Twenty years later, "Anastasia" has been developed into a Broadway musical with Flaherty composing the music.

But CCM's ties don't end there. Taking on the starring role of Anya/Anastasia is Christy Altomare, CCM '08. The cast is rounded out with more alumni, including Kathryn Boswell, CCM '13, and Kyle Brown, CCM '08.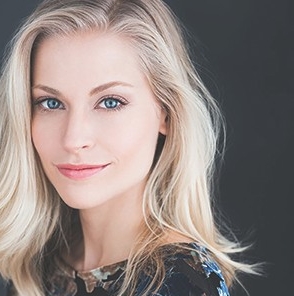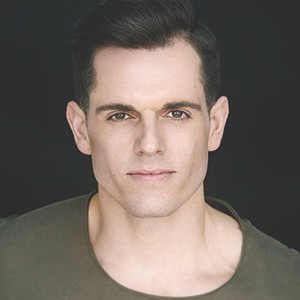 Altomare returned to UC earlier this year to perform the musical's number "Journey to the Past" with the CCM Philharmonia as part of the college's annual Moveable Feast. The "Anastasia" promotional team filmed her performance and used it to promote the show's Broadway run. Ahead of the musical's Broadway debut, Altomare performed that same song in costume on NBC's "Today Show" this past spring.

Altomare caught the Broadway bug after seeing "Cats" as a young child. The long-running musical featured UC alumna Liz Callaway as Grizabella at the time. Coincidentally, Callaway voiced the singing part of Anastasia in that original animated film.

It's all come full circle now that "Anastasia" is on the stage at New York's Broadhurst Theatre.
UC grad helps fight stigma of mental illness by sharing her own journey from schizophrenia to recovery.
Sisters Lucy and Annette Braun, UC's trailblazing female PhDs, devoted their lives to illuminating nature.
At 150 years, CCM reflects on its humble beginnings and impressive firsts while celebrating successful alumni and campus events.
UC's Richard Harknett, one of the world's leading online security experts, reveals the digital threats that keep him up at night.

UC President Neville Pinto is back home at the university that launched his career. His mission: to promote the value of higher education.