UC's All-American thrower became the fifth national champion in Bearcats history.


Annette Echikunwoke stands inside the throwing circle as her coach's instructions pepper in from just outside the protective netting: "Push to 90 and release at 270," says UC track coach Susan Seaton.
The 5-10 University of Cincinnati junior expels a deep breath, grasps the grip and begins windmilling the hammer — a nearly 9-pound iron ball attached to a 4-foot wire — with absolute ease. After three overhead rotations, she extends both arms to bring the now-orbiting metal ball to shoulder level as sheer momentum transforms her body into a spinning axis — one, two, three full spins, then release.
"OK, OK, that's good," Seaton assures. The iron hammer sails off into the distance, the wire and handle trailing behind like the tail of a comet, before the implement bounces back to earth with what resembles a turf splash as grass and dirt fly into the air 200 feet downfield.
The hammer is one of three events in which Echikunwoke (a-CHI'-ku-WO'-kay) has established herself as a national talent. In March, she won the NCAA Indoor Track and Field title in the weight throw, becoming only the fifth individual national champion in UC's history. All four of UC's previous individual national titles came in the swimming pool, making Echikunwoke the only track and field national champion in school history.
"Annette is an extremely talented athlete," says Seaton. "She has a great physique to be a high-level thrower. She is still a very young athlete, so she still has a lot of upward potential."
Her coach expects Echikunwoke will be the favorite to repeat as an indoor national champion in the weight throw her senior year. "She has the potential to throw 80 feet in the weight throw if everything goes well." That distance would place her in the top 5 in the world.
Three months after she won her indoor title and her third consecutive first-team All-America honors, Echikunwoke returned to nationals in the shot put for outdoor championships in June. While she improved upon her personal best, she did not qualify for finals. Her teammate Adrian Valles, however, turned in a runner-up finish in the pole vault, and discus thrower Macklin Tudor placed 12th.
A three-time American Athletic Conference champion, Echikunwoke has smashed UC records in both the hammer and weight throw and finished the indoor season ranked 10th in the world in the weight throw. The weight throw is the indoor equivalent of the hammer, but the ball is far heavier at 20 pounds and more closely connected to the grip.
"Winning the national championship was crazy," she recalls. "I believed it could happen, but I didn't know it would happen so early in my career."
As excited as Echikunwoke was, she barely reacted after her win.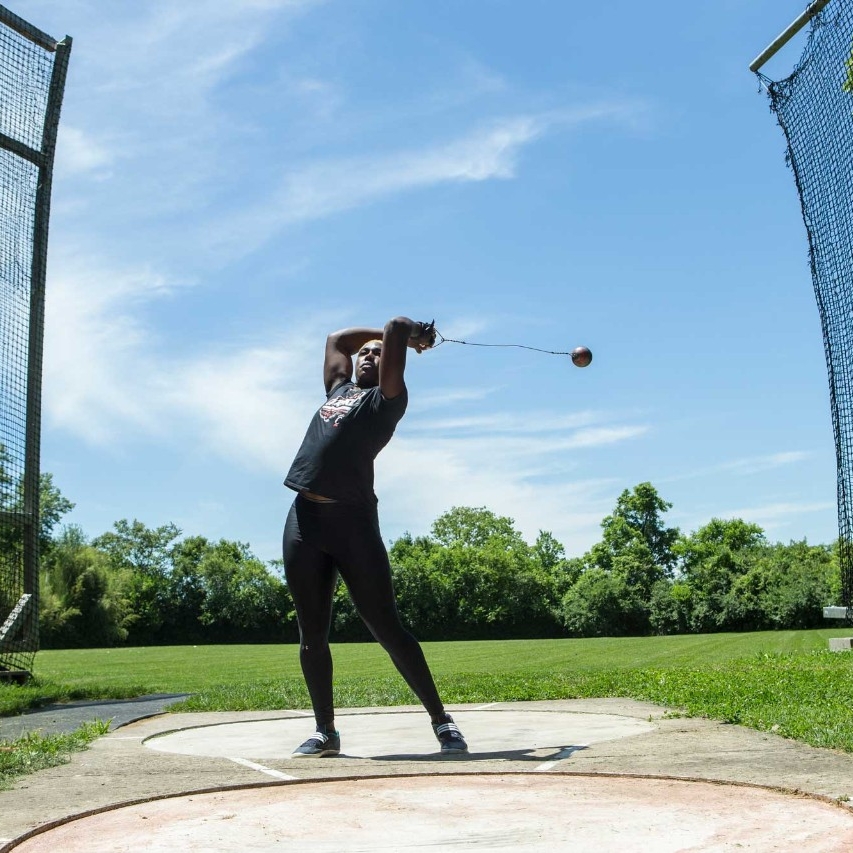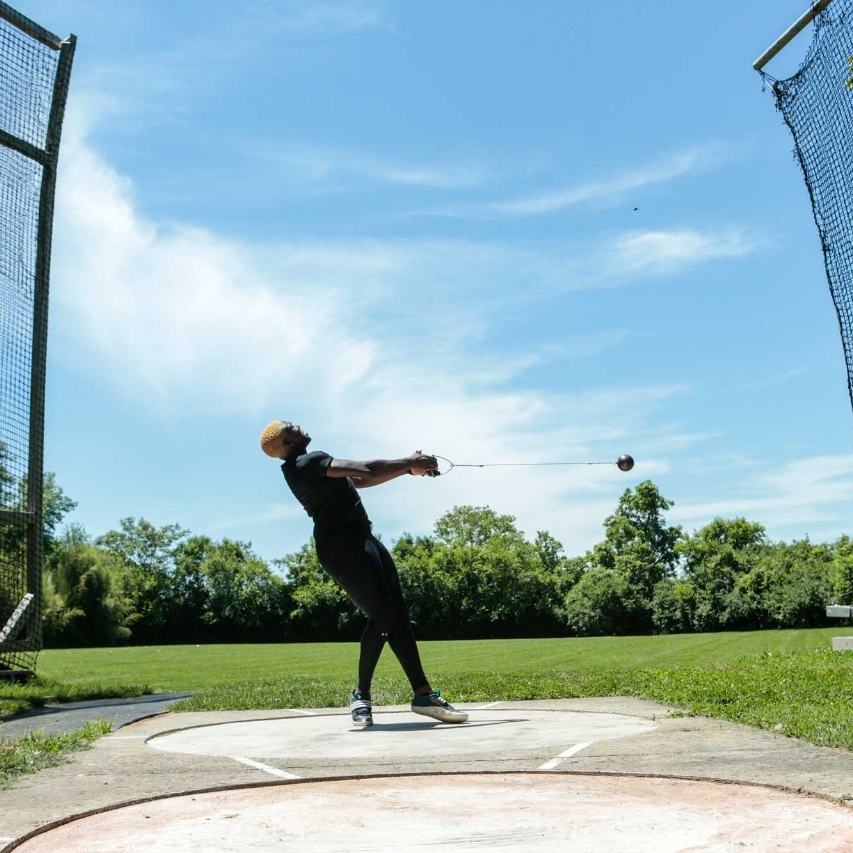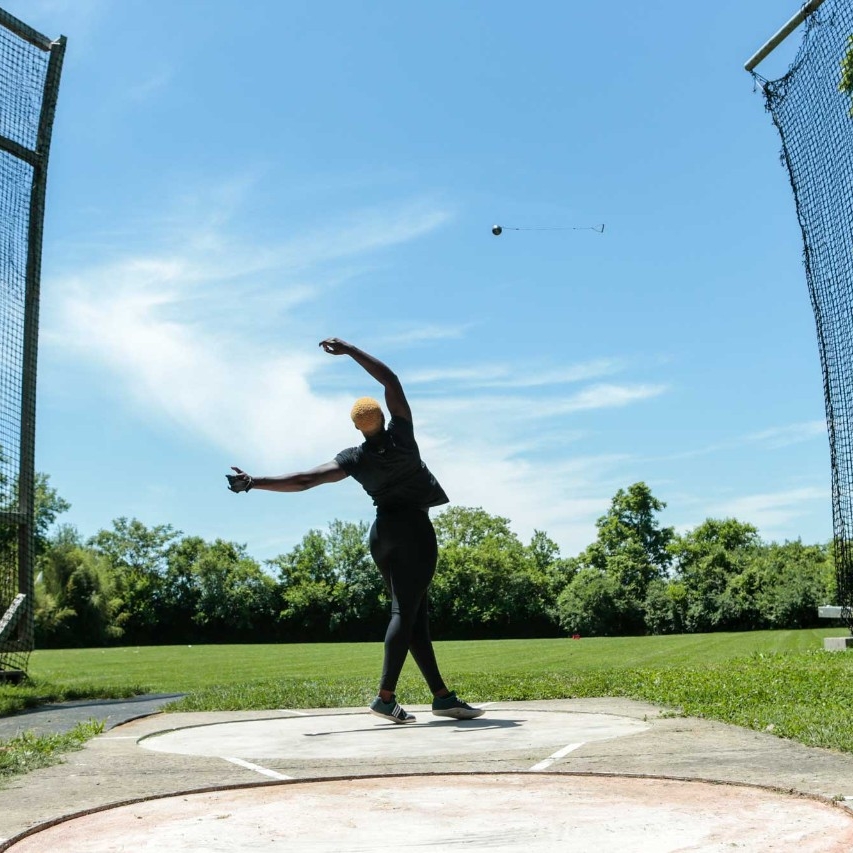 "I definitely like to compete, but I'm not one to be a peacock when it comes to competing," Echikunwoke says. "I'm not very showy. I just do what I need to do, and if my mark is better than yours, then so be it. I like to be encouraging to the people I compete with. I don't want to just beat someone on their worst day. I want to beat them on their best day."
Having a more athletic build than most throwers, she says, plays into her reputation on the field.
"When I compete, people think I'm intimidating because of my stature, and I usually do have an intense game face," the tall and powerful athlete says. "But when they get to know me, I'm very outgoing. I'm very chill. I like to just have fun with people. I'm not as intimidating as people may think."
Echikunwoke had never thrown the hammer or the weight until she arrived at UC after having been recruited as Pickerington North High School's best-ever shot put and discus thrower. Growing up near Columbus, Ohio, she fell in love with throwing in the seventh grade.
"We had field day at school, and I threw the farthest," she laughs. "I was like, 'Well I'm good at it, so I might as well do it.'"
She's been doing it ever since and with plenty of support from her family. Her parents, both born and raised in Nigeria, came to the United States to start a family. Echikunwoke has two younger sisters and a younger brother. Her last name derives from her heritage and means "leader of men," which is appropriate considering one of her grandfathers was a village chief in Nigeria.
Young Echikunwoke struggled to find her identity as an adolescent until discovering her faith at age 16.
"When I was younger, I didn't really like myself," she shares. "I was constantly comparing myself to other people. I saw my life transform. I was like, 'God made me Annette. He didn't make me somebody else. He made me who I am for a reason,' and I've been growing in that ever since."

Beyond her athletic prowess, Echikunwoke has also excelled in the classroom and chose UC because of its academic offerings. She originally enrolled in engineering but has since switched her major to mathematics and is interested in actuarial science. Her dream, however, is to work as a creative director someday.
Along with classes, Echikunwoke stays active as an ambassador in UC's African American Cultural and Resource Center and as a member of the National Society of Black Engineers.
She trains for hours every day, especially in the spring season, when she focuses on the weight throw three days a week and on hammer for the other two.
Outside of that, she hits the weight room.
"Coming to UC was a shock to the body," Echikunwoke says. "My freshman year we would lift for two hours every other day, and I remember asking Susan if we could make lifting shorter or not as heavy. Susan looked at me and said, 'You need to grind before you can shine.'"
With her senior year ahead of her and having already won a national championship, her coach's words have already proven prophetic.
But she's not finished grinding.
Video/Joseph Fuqua II/UC Creative Services

John Bach
As editor of UC Magazine, John enjoys the opportunity to put a human face on a large institution by telling compelling stories of the University of Cincinnati's incredible community of alumni, faculty, staff and students. John.Bach@uc.edu
UC grad helps fight stigma of mental illness by sharing her own journey from schizophrenia to recovery.
Sisters Lucy and Annette Braun, UC's trailblazing female PhDs, devoted their lives to illuminating nature.
At 150 years, CCM reflects on its humble beginnings and impressive firsts while celebrating successful alumni and campus events.
UC's Richard Harknett, one of the world's leading online security experts, reveals the digital threats that keep him up at night.

UC President Neville Pinto is back home at the university that launched his career. His mission: to promote the value of higher education.